Colts MBB Headed to the Final Four
March 23, 2023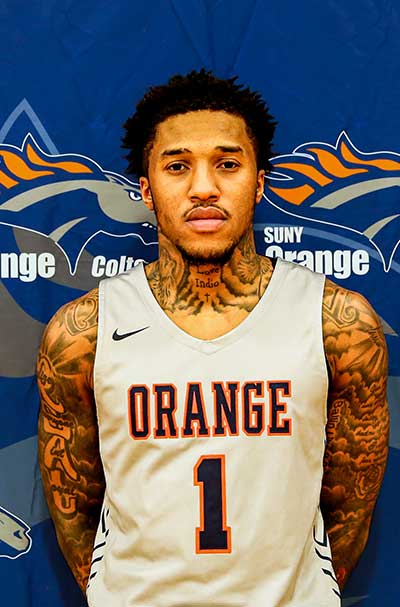 DANVILLE, Ill. -- All five starters scored in double figures, led by Keon Gill's 34 points, as SUNY Orange advanced to the National Junior College Athletic Association Division II Final Four Thursday night with a 102-87 upset of third-seed Henry Ford College in Danville, Ill.
The Colts (31-1), who became the third lower seed to win a quarterfinal game in this tournament just one night after the top two seeds (Davidson-Davie and Niagara County) were upset in their quests to reach the Final Four, will play seventh-seeded Milwaukee Area Tech at 9:30 p.m. Friday for the right to advance to the D-II title game on Saturday night. Milwaukee Area (30-4) defeated Niagara 79-65 on Wednesday evening and will await the winner of host and fourth-seed Danville Area versus Waubonsee in the other semifinal on Friday evening.
In addition to the 34 points from Gill (Middletown, N.Y.), Romeo Aquino (Newburgh, N.Y.) posted a double-double with 24 points and 17 rebounds. Darius Boben (Highland Falls, N.Y.) added 16 points while Tim Linton (Middletown, N.Y.) and Kevin Stein (Chester, N.Y.) contributed 14 and 11 points, respectively. Linton and Stein each also had five rebounds. The Colts entered the tournament averaging a nation-leading 99.7 points per game and their 102 points Thursday are the most scored by any team thus far in the tournament.
"This was a great team effort," I'm really happy for the guys. They played really hard. Getting to the Final Four is a tremendous accomplishment," said SUNY Orange Head Coach Tom Rickard. "We did a good job attacking their post in the first half and we did a better job in the second half defending their three-point shots. Milwaukee Area is athletic and long, and they really get after it. We are going to have to match their intensity."
The starters accounted for 99 of SUNY Orange's 102 points, yet it was George Patsalos (New Windsor, N.Y.) who converted both ends of a one-and-one with 1:39 to play to steady the sixth-seeded Colts after Henry Ford had trimmed a 23-point Colt lead to 11. Patsalos finished the game with three points and eight rebounds.
Leading 52-37 at halftime, keyed by 20 points from Gill, SUNY Orange maintained a double-digit cushion until an eight-point run over a 1:40 span gave the Colts their largest lead of the game at 87-64 with 8:06 to play. Stein capped the run with back-to-back three pointers. Henry Ford ripped off the next seven points and methodically capitalized on Colts' fouls to close within 94-83 with 1:53 remaining before Patsalos converted his two free throws.
Much like their opening round game when they took control with a big first-half run, the Colts followed suit on Thursday, breaking the game open with a 12-0 run, part of a larger 21-4 surge, to turn a 12-12 tie into a 31-16 lead midway through the half. Aquino led that charge with eight points while Gill added six, Boben chipped in five and Linton added a bucket.
Henry Ford answered with a 10-2 run to cut the gap to nine at 35-26 with 6:20 left but the Colts finished the half on another 17-11 run to build a 52-37 lead at the break. Gill scored the Colts' final eight points of the half. Tyler Mack led Henry Ford with 22 points and D'Juan Seal added 18. Curtis Jackson and D'Quarion Cole added 16 and 13, respectively.