Tom Rickard Returns as Men's Basketball Coach
April 12, 2019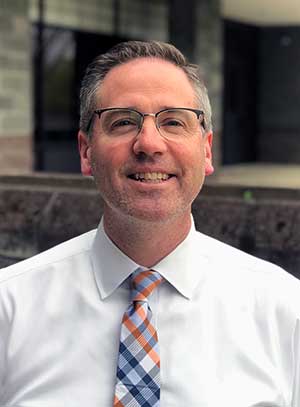 MIDDLETOWN, N.Y. – SUNY Orange athletic director Wayne Smith didn't have to look far in his search for a new head men's basketball coach, dipping into the Colts' rich hardwood heritage by hiring former head coach Tom Rickard to assume the program's reins following the recent retirement of Joe Detz.
Rickard returns to the Colts' sideline following a six-year hiatus. He was head coach from 2006-07 through 2012-13, compiling a record of 134-73 in that span. Under his tutelage, the program amassed four 20-win seasons, including a 25-win campaign in 2010-11. Rickard led SUNY Orange to a pair of Mid Hudson Conference titles (2006-07 and 2008-09) and twice guided the Colts to the district championship, falling just one win short of a berth in the National Junior College Athletic Association national tournament each time.
"We are pleased and excited to have Tom Rickard back as our men's basketball coach," Smith said. "Tom's experience and successes here at SUNY Orange make him uniquely qualified to lead this program. Like retiring coach Joe Detz, Tom is the type of coach who mentors his players and places great value in their academic and character development. I am confident he will continue to build our competitive basketball program and develop solid student-athletes here at SUNY Orange."
When named head coach in 2006-07, Rickard succeeded his father Paul who had led the Colts' hardwood fortunes for 25 years, including guiding the program to its lone National Junior College Athletic Association national championship tournament appearance in 2006. Tom Rickard spent eight seasons as an assistant under his father. As a player, Rickard averaged 25 points per game during his senior season at nearby Minisink Valley High School; scored 1,010 points at SUNY Orange en route to earning all-region honors; and became a Division II All-American at Dominican College following his final season.
"I'd like to thank the SUNY Orange administration for giving me this opportunity. I'm excited and grateful to be back leading the men's basketball program," Rickard said. "SUNY Orange holds a special place in my heart and I will do my best to live up to the SUNY Orange standard. It's a win-win situation, SUNY Orange provides a top tier education at a fraction of the cost and plays at a high level of basketball. I am looking forward to hitting the ground running, meeting the returning players and reconnecting with the local high schools."
The Rickard name long been intertwined in SUNY Orange athletic history. Paul Rickard was inducted into the Colt Athletic Hall of Fame in 2015, one year after his sister Theresa was inducted. This past December, the College honored Paul Rickard by naming its basketball surface "Paul Rickard Court."
Detz guided the Colts to 67 victories over the past six years, including postseason appearances in each of the past four seasons. The program won a Region XV Division II title in 2016-17.