The Medical Laboratory Technician A.A.S. Degree Program
Below is information about SUNY Orange's Medical Laboratory Technician A.A.S. Degree Program.
Academic/Admission Requirements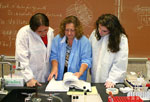 Admission to the Medical Laboratory Technician Program requires a high school diploma or a high school equivalency diploma. It is desirable to have high school biology and chemistry, but it is not required. All developmental courses into which a student has placed must be completed prior to admission to the program.
Students applying to the Medical Laboratory Technician program are required to attend one Pre-Admission Seminar within three years prior to the application deadline (February 1st).
Pre-Admission Seminars are scheduled for Wednesday, September 28, 2022 at 11am, and Wednesday, October 26, 2022 at 11am. Please check back at the beginning of the Fall 2022 semester location of the seminar.
This seminar is an important and informative time when a Clinical Laboratory Science instructor will describe the Medical Laboratory Technician program and an Admissions specialist will describe the admissions process. In addition, you will have an opportunity to ask questions about the Medical Laboratory Technician Program. Prospective students will receive and sign off on information pertaining to health forms, drug testing and criminal background checks.
Failure to attend a seminar in its entirety will forfeit student's application for admission consideration. Please note the seminar could take up to two hours so plan accordingly. No R.S.V.P. required to attend. Plan to arrive 15 minutes prior to the start of the seminar.
For additional information on applying for admission to the MLT program please visit our Admissions website.
Program Facts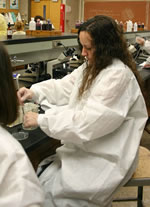 Program is accredited by NAACLS (National Accrediting Agency for Clinical Laboratory Science) and graduates are eligible to sit for national certification and NYS Licensure exams.
This program was established in the early 1970's
The college admits up to 18 students in the program each Fall semester
Program Mission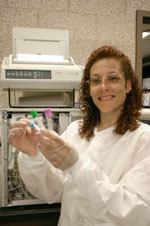 The Medical Laboratory Technician Program seeks to provide each student with educational experiences and knowledge to develop the critical thinking, technical and interpersonal skills required to be a successful clinical laboratory scientist. The program will integrate knowledge gained from general education, biological science and clinical laboratory science so that the future laboratorian will exercise good judgment, ethics and appropriate decision making abilities to serve the needs of the community and the profession.
Student Learning Outcomes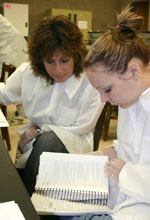 The students will be able to:
Properly collect, process and analyze biological specimens.
Safely and accurately perform analytical procedures, recognize factors affecting results and take appropriate action.
Be eligible for national certification as a Medical Laboratory Technician by successfully completing the examination given by the American Society for Clinical Pathology Board of Certification.
Be eligible to sit for the NYS Certified Clinical Laboratory Technician Licensing Examination.
Continue to maintain professional competence and utilize opportunities for continuing education and career advancement so as to provide quality health care to the public.
Essential Functions Required of Medical Laboratory Technician Students
Several essential movement, observational, communication, intellectual and behavioral functions are required to complete the objectives of the courses in the program and to perform the necessary duties required of a medical laboratory technician. A detailed listing of these essential functions is included in the MLT admissions packet and is discussed at the pre-admission orientation session.
MLT Outcome Measures
Graduation Rates:
Graduation Year
# of students who began final half of the program
Attrition in final half of the program
# of Graduates
Attrition %

Graduation

Rate %

3-year average graduation rate
2020
9
0
9
0
100%
2021
7
1
6
14%
100%
2022
12
1
11
8%
100%
100%
ASCP Board of Certification Exam Pass Rates:
| Graduation Year | # of Graduates | # of graduates who took exam within 1st year | # of graduates who passed exam | Yearly ASCP Board of Certification pass rate (%) | 4-Year average pass rate |
| --- | --- | --- | --- | --- | --- |
| 2020 | 9 | 8 | 4 | 50% | |
| 2021 | 6 | 4 | 4 | 100% | |
| 2022 | 11 | 10 | 8 | 80% | 77% |
Placement Rates:
| Graduation Year | # of Graduates | Employment or Continuing Education | Student did neither | Have no info on student | Placement % | 3-Year average placement rate |
| --- | --- | --- | --- | --- | --- | --- |
| 2020 | 9 | 8 | 0 | 1 | 100% | |
| 2021 | 6 | 6 | 0 | - | 100% | |
| 2022 | 11 | 8 | 0 | 3 | 100% | 100% |