The Medical Laboratory Technician A.A.S. Degree Program
Below is information about SUNY Orange's Medical Laboratory Technician A.A.S. Degree Program. Additional information is available regarding:
Academic/Admission Requirements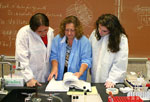 Admission to the Medical Laboratory Technician Program requires a high school diploma or a high school equivalency diploma. It is desirable to have high school biology and chemistry, but it is not required. All developmental courses into which a student has placed must be completed prior to admission to the program. For additional information on applying for admission to the MLT program please visit our Admissions website.
Program Facts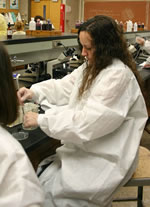 Program is accredited by NAACLS (National Accrediting Agency for Clinical Laboratory Science) and graduates are eligible to sit for national certification and NYS Licensure exams.
This program was established in the early 1970's
The college admits up to 18 students in the program each Fall semester
The three year average graduation rate is 100%.
The three year average pass rate on the MLT ASCP certification / licensing exam is 89%.
The three year average employment rate is 93.3% for the MLT Program. Nationally, there are more jobs available than the number of graduates.
Program Mission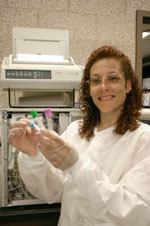 The Medical Laboratory Technician Program seeks to provide each student with educational experiences and knowledge to develop the critical thinking, technical and interpersonal skills required to be a successful clinical laboratory scientist. The program will integrate knowledge gained from general education, biological science and clinical laboratory science so that the future laboratorian will exercise good judgment, ethics and appropriate decision making abilities to serve the needs of the community and the profession.
Student Learning Outcomes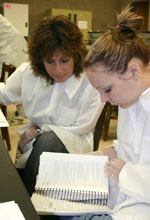 The students will be able to:
Properly collect, process and analyze biological specimens.
Safely and accurately perform analytical procedures, recognize factors affecting results and take appropriate action.
Be eligible for national certification as a Medical Laboratory Technician by successfully completing the examination given by the American Society for Clinical Pathology Board of Certification.
Be eligible to sit for the NYS Certified Clinical Laboratory Technician Licensing Examination.
Continue to maintain professional competence and utilize opportunities for continuing education and career advancement so as to provide quality health care to the public.
Essential Functions Required of Medical Laboratory Technician Students
Several essential movement, observational, communication, intellectual and behavioral functions are required to complete the objectives of the courses in the program and to perform the necessary duties required of a medical laboratory technician. A detailed listing of these essential functions is included in the MLT admissions packet and is discussed at the pre-admission orientation session.
Are you ready to write your story?