Computer Information Technology (CIT) Networking Degree
Why Computer Networking?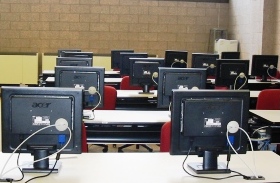 All organizations today rely on computer and information technology to conduct business and operate more efficiently. Often, however, these institutions do not have the internal resources to effectively implement new technologies or satisfy their changing needs.

When faced with these limitations, organizations turn to the computer systems design and related services industry to meet their specialized needs on a contract or customer basis.
Firms may enlist the services of companies in the computer systems design and related services industry for help with a particular project or problem, such as setting up a secure web site or establishing a marketplace online.
Why Computer Networking at SUNY Orange?
The College's networking degree program prepares graduates to succeed in a variety of entry-level careers in computer networking and information technology occupations. An internship component is blended with coursework that concentrates on the latest emerging technological equipment and software.
An experienced faculty brings the real world into the classroom to provide SUNY Orange students with a well-rounded education. A SUNY Orange networking degree is designed to prepare students to enter the workforce upon graduation.
Top 5 Reasons You Should Study Computer Networking At SUNY Orange
There continues to be a high demand for individuals with networking training.
The internship program provides real world experience as well as enhancing your resume.
A SUNY Orange degree sets a good foundation for working towards various certifications.
A degree ensures a successful future.
Student clubs offer additional experience in team building and learning.
Program Description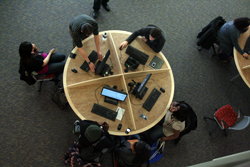 The Associate in Applied Science degree program in CIT-Networking prepares students for employment in a variety of entry-level careers in computer networking and information technology occupations. The theory and practical experience students gain allows them to enter jobs with highly competitive salaries.
This degree program offers the course work that provides background information for students to take the compTIA's A+, Security+, Networking+, Linux+ and CISCO's CNA certification exams.
The primary focus of this degree program is networking computer systems including implementation, configuration, maintenance and administration of networking equipment, which includes creation of networking servers. The degree course work introduces students to basic computer systems and builds on theoretical and technical knowledge and skills to develop a strong understanding of networking topologies, mediums and medium access techniques in both local area and wide area networks (LANs and WANs).
Classes are designed to provide students with hands-on training utilizing state-of-the-art computer facilities. Students are also placed in a work environment in order to provide actual service to a business through the CIT-Networking advisor.
While A.A.S. graduates are prepared to enter the workforce immediately, many students choose to transfer to upper-level programs leading to a bachelor's degree in technology. If students are considering this, they should consult with the department chair and advisors for program planning. Special planning is available for students entering the program with previous college credit or equivalent training/work experience.
Admission Criteria
Admission to this program requires that students be high school graduates or have high school equivalency diplomas (GEDs). If students are not high school graduates, they may be eligible for admission to the College's 24 Credit Hour Program. If students are home-schooled, they may be eligible for admission.
Transfer Opportunities
While the A.A.S. degree leads to immediate employment, SUNY Orange students have successfully transferred to:
Marist College
Mount St. Mary College
SUNY Institute of Technology