Kindness Initiative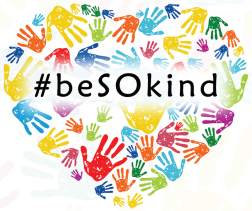 January 21st- February 14th, 2020
Weekly Themes and Challenges
Week 1 – Warm Up to Kindness:
1/21 – Encourage Kindness! Tell at least one person about the Kindness Initiative.
1/22 – Share a kind word with as many people as possible today.
1/23 – Do something helpful for a friend or family member.
1/24 – Make a list of kind things that others have done for you in the last month and sincerely appreciate them for those acts of kindness.
Week 2 – Make Someone Smile:
1/27 – Call or spend time with a relative or friend you haven't seen in a while.
1/28 – Give a friend and/or family member a spontaneous hug today.
1/29 – Let someone go ahead of you in a checkout line or pay for the order of the person behind you.
1/30 – Thank anyone who does anything for you today.
1/31 – Congratulate someone today for an achievement that may otherwise go unnoticed and unappreciated.
Week 3 – Be Kind to Yourself:
2/3 – Notice when you are being hard on yourself and be kind instead.
2/4 – Spend loving time with a pet or visit the therapy dog today.
2/5 – Find an app or video on mindfulness and try a short meditation today if you haven't ever done it before. If you are more experienced, give yourself the gift of a period of mindfulness today.
2/6 – Nature is calming. Spend some time outside, even if it is cold, and allow yourself to appreciate the natural beauty around you. Pick up any trash you encounter to help maintain that beauty.
2/7 – Practice solid self-care today by getting some extra sleep, eating right, and staying hydrated.
Week 4 – Spread Kindness in Your Own Way:
2/10 – Raise awareness about a cause that you care about today and donate to that cause in some way if you can.
2/11 – Listen to others today (and every day!) with a full, loving heart and without judgment.
2/12 – Leave a positive message in a public space today for someone else to find.
2/13 – Be generous – feed someone with food, love, and/or kindness today.
2/14 – Celebrate love today by telling someone special how much they mean to you.
Share your acts of kindness using #beSOkind!



Contact Elizabeth Tarvin or Christine Henderson for more information, to share acts of kindness, and/or to get involved!
Are you ready to write your story?