SUNY Orange Presents 2019 President's Awards
April 1, 2019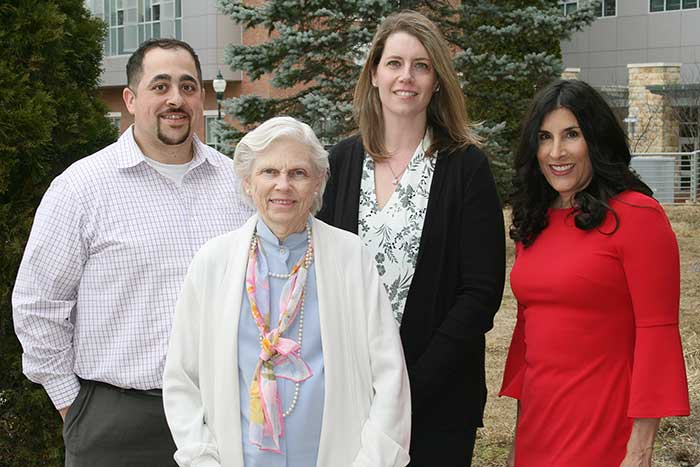 MIDDLETOWN, N.Y. – Dr. Kristine Young, SUNY Orange president, announced recently the selection of Janine Sarbak, Anthony Scalia, Dr. Katherine Sinsabaugh and Dorothy Szefc as recipients of the 2019 SUNY Orange President's Award for Excellence. The awards were presented at an all-College Assembly on Monday, March 25.
Sinsabaugh (third from left), chair of the Education Department, and Sarbak (far right), a professor of criminal justice, were recognized for teaching excellence while Szefc (second from left), coordinator of Cultural Affairs, and Scalia (far left), a transfer advisor in the College's Academic Advising office, were cited for excellence in professional service.
"I am tremendously pleased to recognize the great work that Janine, Anthony, Katherine and Dorothy have provided to the College over many years," Young said. "Their dedication to their respective crafts, their energy and their commitment to the College are unparalleled. I am also appreciative of the thoroughness with which the College's Professional Recognition and Awards Committee researched and identified four exemplary recipients for this award."
Sarbak joined the SUNY Orange faculty in 2008 and has taught a variety of criminal justice courses in that span. She is known as a dynamic lecturer who brings her experiences to the classroom and shapes her curriculum to reflect the workforce in which her students will ultimately encounter. She also integrated a mock trial program into her criminal law course curriculum, making SUNY Orange one of the few SUNY institutions to provide that element within a class structure, rather than through a co-curricular club.
She has been actively involved in the College community, having served as the College's diversity coordinator, chaired the Scholarship Committee, and assisted in the creation of a Holocaust Center on campus. She also helps to coordinate the College's annual Women's History Day program. She earned her juris doctor degree from Touro College and her bachelor's degree from SUNY Cortland.
Scalia has spent 13 years as a member of the academic advising staff, and has coordinated the College's transfer advising program for the past six years. In addition to advising students on how best to remain on track with their academic progress, Scalia has greatly enhanced students' access to information related to transferring to a four-year college or university. He expanded the College's Fall Transfer Fair to both campuses and manages the more than 80 college representatives who typically attend. In March, he gathered transfer representatives on the Newburgh campus as an additional way for students to connect with those institutions.
He has greatly expanded the Transfer Advisor-in-Residence program and has streamlined the general visits by representatives from four-year schools. He has coordinated transfer panels with a variety of academic departments and established a Completion Scholarship from money collected from the Annual Fall Transfer Fair registration fees paid by visiting schools. In addition, Scalia has taught a variety of classes, including Career Planning and College Success Seminar. He holds a master's degree from Long Island University and a bachelor's degree from SUNY Oswego.
Sinsabaugh was an adjunct instructor in the Education Department at SUNY Orange during the 2008-09 academic year before being hired full-time in 2009. She was named chair of the department in 2017. As chair, she initiated visits by her department to the Orange/Ulster BOCES C-TEC Early Childhood Program and has also actively explored relationships between SUNY Orange and local high schools. She streamlined the transfer process for students of the College's Jointly Registered Teacher Education Program with SUNY New Paltz.
Prior to arriving at SUNY Orange, Sinsabaugh was a first-grade teacher at Scotchtown Avenue Elementary School in Goshen from 2005 to 2009. She earned her bachelor's and master's degrees from Marist University, graduating summa cum laude from both programs. She acquired her doctorate in education from Capella University with a perfect 4.0 grade point average.
As cultural affairs coordinator at SUNY Orange for the past 19 years, Szefc has organized and grown the College's robust program of lectures, concerts, master classes, poetry and writing readings, stage and children's theatre performances, films, and exhibits for two campuses. When she first started as a part-time coordinator in 2000, the Cultural Affairs program featured 21 events during the academic year. Szefc has since been elevated to full-time status and has grown the program to include a robust 80-100 programs each year with more than 8,000 students, faculty, staff and community members attending annually. She continues to encourage the SUNY Orange community and the community-at-large to engage in the arts.
Szefc has served on the boards of directors/trustees of the Hudson Valley Philharmonic, the Orange Orchestral Society, and the Orange County Arts Council, chairing its Arts Awards Committee. Additionally, she was a member of the Executive Council of Music in the Mountains at SUNY New Paltz and the Contemporary Arts Alumni Advisory Board at Ramapo College, as well as the Orange County Citizens Foundation Exhibit Committee. She was the first female president of the Middletown Babe Ruth Baseball League and received the SUNY Orange Foundation Leadership in Community award in 2016. Szefc is a graduate of SUNY Orange who earned her bachelor's degree from Ramapo College.