College Celebrates First Students to Complete BRIDGES Program
July 31, 2019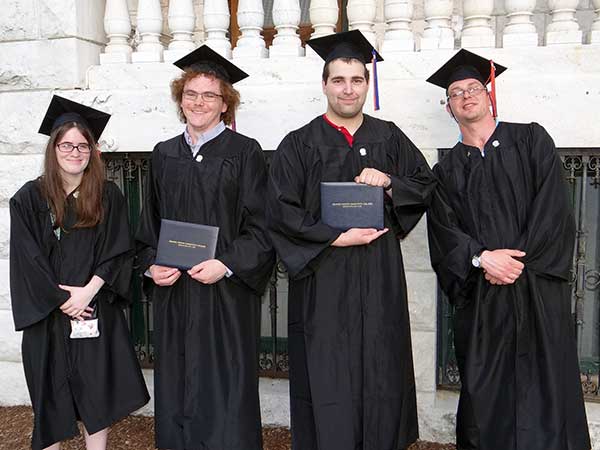 MIDDLETOWN, N.Y. -- Dr. Kristine Young, president of SUNY Orange, and Patricia Bassey, director of the College's BRIDGES program, have announced that four students recently completed their programmatic requirements and participated in Commencement ceremonies this past May.
Comprising the inaugural class of graduates from the BRIDGES program were Martin Anderson (Bloomingburg), Brian McKeeby (Huguenot), Thomas Ribaudo (New Windsor) and Brynn Sutter (Montgomery). The BRIDGES program provides an inclusive, community-based educational framework for students with intellectual disabilities (ID), developmental disabilities (DD) or autism spectrum disabilities (ASD).
"We are proud of the success and growth that Martin, Brian, Thomas and Brynn achieved during their time in the program, and we can't wait to see what lies ahead for them," Bassey said. "It is our hope that BRIDGES graduates will join the many SUNY Orange alumni who consider their experience at SUNY Orange as pivotal to their starting adult life, pursuing formal higher education, enjoying the dignity of living independently and engaging in meaningful work."
BRIDGES allows for academic and career exploration for students with varying abilities through a student-centered, learner active and customized course of study designed to meet individual interests, skills and goals. The program has five program goals: vocational/employment preparation, independent living, academics/lifelong learning, personal development/life strategies, and social participation/civics.
The program has also been identified by the United States Department of Education as an approved Comprehensive Transition Program (CTP). Students who meet the basic federal student aid eligibility requirements may receive funding from the Federal Pell Grant, Federal Supplemental Educational Opportunity Grant, and Federal Work-Study programs, which, in turn, may be applied to BRIDGES tuition.
For more information, program costs and eligibility criteria, contact Patricia Bassey at (845) 341-4694.
Caption: From left are: Brynn Sutter, Martin Anderson, Thomas Ribaudo and Brian McKeeby from the BRIDGES program.
Are you ready to write your story?