Engineering Students Design, Build, and Test Cardboard Bridges
November 20, 2021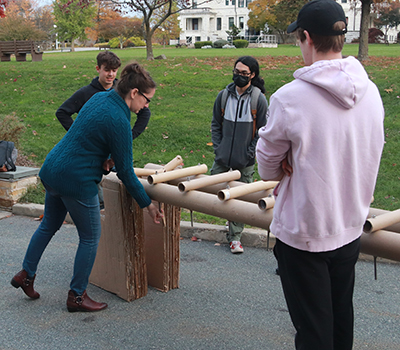 Question: What do you get when you give a group of architecture students a bunch of recycled cardboard boxes and carpet roll tubes, glue, and some assorted hardware?
Answer: You get seven cardboard pedestrian bridges capable to hold the weight of at least three adults.
As the Fall semester moved toward its conclusion in mid-November, students from SUNY Orange's Introduction to Engineering Design course conducted a "load testing" session on the College's Middletown campus to assess their cardboard bridge-building designs as part of a month-long class project.
Thirty-two students in two sections of the class, guided by professor Pam Rice-Woytowick, participated in the project. The students were split into teams by course section – four teams from the first class, and three teams from the second.
Students each generated their own design concept with schematic drawings. Those designs were then grouped by similarity of construction systems, with students collaborating to combine their ideas into a single design strategy for each of the systems.
The teams spent weeks developing a common schematic for their design, refining it, and sourcing the necessary materials prior to ultimately building prototype cardboard pedestrian bridges.
With the construction phase complete, the teams then tested their designs. The sturdiest design held 14 students with capacity to hold more but was limited by size rather than strength.
Using the data gained during the recent load-testing, students will now analyze their experiment results to make improvements, which will be represented in a digital prototype.
The seven construction techniques included a tube system, a laminated interlocking system, a triangle system, a catenary arches system, a waffle grid system, and a railroad system.
The winning design – a tube system design (pictured below left) – is on display in the gallery located on the ground floor of the Rowley Center.
The College's engineering science and architectural technology degree programs are among six degrees in SUNY Orange's STEM community. Visit the Explore Degrees page on the College's website to learn more about available degree options.