September 11 Remembrance Message
September 11, 2019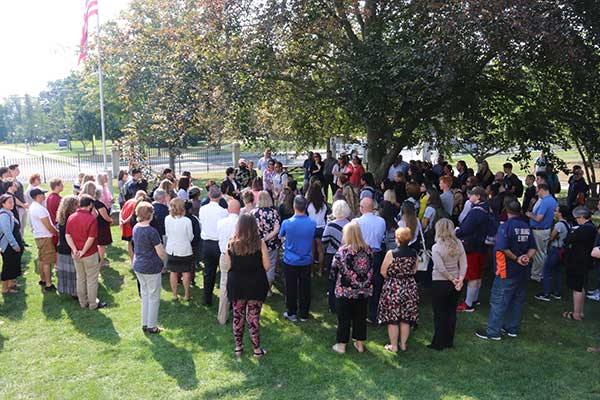 I was overwhelmed by the support and crowd that joined me at our September 11th remembrance this morning on the Morrison Hall lawn. It is clear to me that the events of that morning 18 years ago, as well as subsequent events, still impact each of us in some fashion.
Following are the remarks I shared this morning and I encourage each member of the SUNY Orange family to reflect upon this anniversary in whatever manner is appropriate for you.
Kris
Good morning
Welcome, and thank you for joining us this morning for this very solemn observance.
Today we mark the 18th anniversary of the terrorist attacks on the World Trade Centers in New York City and the Pentagon in Washington, D.C. Today, as we have done every year since the attacks, we will spend a few minutes remembering that day, and the victims of those horrific acts.
The resolve of our nation was tested that day, and the United States responded. We demonstrated that our country cannot be intimidated ... that we, as individuals, as Americans, won't be deterred by violence, terrorism, radicalism or other threats to our nation or our way of life.
I appreciate you stepping out of the classroom, or away from your desk, to be here. As we learned in 2001, and many times since, life goes on in the face of tragedy. And it goes on in the wake of horrific events.
Even though 18 years have passed since that horrible day, the wounds and memories remain fresh for many folks, and they will never fade away. Children have grown up not knowing their mother or father. Parents lost their grown children far too early. Friends, loved ones, colleagues, and strangers ... all taken from us before their time.
As that day lapses farther into history, it is imperative that we never forget the nearly 3,000 innocent citizens and responders who perished in the attacks. But, let's also keep in our hearts the memories of the more than 1,000 others who have died since then due to health complications, cancers and other diseases they acquired as first responders and/or members of the cleanup crews. The attacks were quick, but the tragic effects are everlasting.
Each of us was indirectly affected by the events of September 11, 2001. But, I know that for many of us who may have been directly affected by those attacks, our memories are deeply personal.
Today is about remembering.