Phi Theta Kappa Honor Society
Please Note: For your PTK Honor Cords or other commencement regalia, please visit the Shop at ptk.org.
Phi Theta Kappa (ΦΘΚ) is an internationally recognized honor society for two-year colleges with over two million members in over 1250 chapters located in all 50 states, all US territories (US Virgin Islands, Guam, Puerto Rico, American Samoa, and the Marina Islands), Canada, Germany, the British Virgin Islands, among others. SUNY Orange's Alpha Nu Chi chapter is one of New York's many chapters, with one at each SUNY and CUNY community college.
To be eligible for membership in PTK, students must: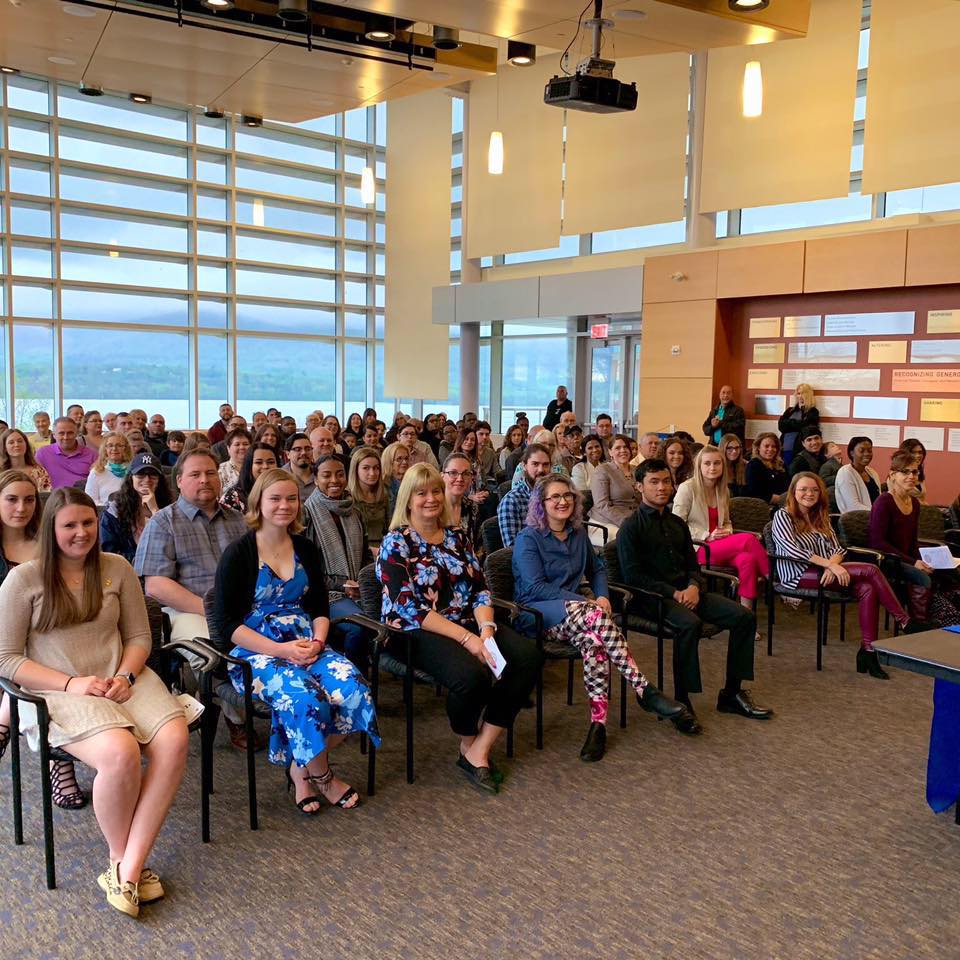 Be matriculated in a degree program OR a certificate program OR be concurrently enrolled in a local high school program, such as SUNY Orange's partnership with Newburgh Enlarged City School District's PTech program;

Complete 12 credits toward an associate degree OR 6 credits toward a certificate program;

Earn a 3.5 GPA or higher;

Receive an email invitation from Phi Theta Kappa and enroll using their unique enrollment code OR transfer membership from another college; and
Maintain a 3.25 GPA or higher.
SUNY Orange's chapter of Phi Theta Kappa has consistently seen students awarded a variety of PTK scholarships and awards whether they plan to transfer or enter the workforce directly from their associate degree. PTK members have access to over $37 million in transfer scholarships, receive a membership certificate and pin, are recognized at commencement through special regalia, and are recognized during an annual induction ceremony.
Past members frequently go on to 4-year institutions around the country and earn bachelor's, master's, and doctoral degrees. Recent chapter alumni have gone on to Rochester Institute of Technology, Marist College, Brown University, SUNY New Paltz, University at Buffalo, the University of Kentucky, Cornell University, SUNY Purchase, John Jay College of Criminal Justice, and the University of Arizona, among others.
Our chapter leaders take the reins and spearhead many campus and community activities: fundraisers for pet shelters, the It Gets Better project, RiverKeeper Hudson River cleanup, Adopt-A-Family, The Newburgh LGBTQ Center, the SUNY Orange food pantry, school supply drives, and many more. Most recently, the group has raised funds to outfit restrooms across both campuses with dispensers and displays for free period products, helping to create menstrual equity and support period-havers of all genders on both campuses. Keey an eye out this summer as they are installed.
PTK has sponsored events, such as partnerships with the Global Initiatives; book readers and author events; and guest speakers from local universities, newspapers, as well as local filmmakers.
PTK is not the same as the Honors Program. Learn more about the SUNY Orange Honors Program here.