Faculty
Dr. John Wolbeck, Dept. Chair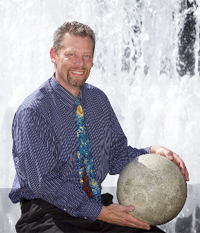 Dr. John Wolbeck, Professor - Physics, Engineering
johnwolbeck@sunyorange.edu
845-341-4577
Office - Rowley Center for Science & Engineering Room 205D
Chair of the Department of Science, Engineering and Architecture.
Recipient of N.Y.S. Chancellors Award for Teaching Excellence (2012).
Recipient of the 2012 International Gerbier-Mumm Award given by the W.M.O., an agency of the United Nations.
Recipient of SUNY Orange Presidents Award for Teaching Excellence (2011).
Historic Preservation Award, 1993, Allentown Historical Society, Buffalo, N.Y.New York
State Licensed Professional Engineer. (P.E.)
Ph.D. in Earth and Environmental Science - C.U.N.Y.,
N.Y.M.S. Environmental Engineering - Manhattan College.
B.S. Mechanical Engineering - SUNY at Buffalo.
A.S. Engineering - SUNY Orange Community College.
Work history:
N.Y. City Filtration Pilot Study for Drinking Water Safety; N.Y. S. Dept. of Environmental Conservation, Division of Water; Automotive Industry; Construction Industry.Began teaching Astronomy, Engineering and Physics at SUNY Orange in 1993.
Dr. Timothy MacMahon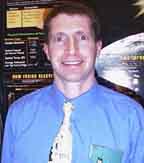 Dr.Timothy MacMahon, Professor - Chemistry
t
Timothy was born in the continental United States yet not in any state in the union. He spent much of his youth mired in mud and was generally considered an intellectual cripple. His formal mental development did not begin until college.
He attended Rutgers University, the State University of New Jersey, and graduated with High Honors in the spring of 1982. After a brief stint as an industrial analytical chemist/whipping boy at Spex Corporation in Metuchen, NJ, he decided it was time to continue his mental development. After two years as a bench chemist, he realized life as a BA chemist was dirty and hard. While he fondly remembered the times he spent as a youth encased in dirt and mud, he was unwilling to return there for long. Therefore, he returned to school to continue his exercise of the little gray cells. This time the school was Purdue, home of the Black and Golf Boilermakers.
Since Purdue is in West Lafayette, IN, he became a Hoosier. In his stint as a boilermaker, the football team did not win one game, but he did manage to see the Goodyear Blimp up close and personal. Well, maybe they did win one game, but did not win many more than that. He attended Purdue from 1984 to 1989. At which point, he felt he had grown intellectually enough to escape, so he wrote a thesis and absconded with a Ph.D. in Analytical Chemistry to New York and once again worked as analytical chemist.
This time he worked for one of the largest corporations in the world, IBM. After a few years as a mass spectroscopist specializing in Fourier Transform Mass Spectroscopy (FTMS), tandem mass spectroscopist EB design, FAB/MS, Thermospray/MS and Particle beam/MS, he managed to dodge the layoffs and quietly slipped out of the building (310 for those who know) and resurfaced in Middletown, NY at Orange County Community College. As far as is known, he is still there teaching chemistry, what else?
Cynthia MacMahon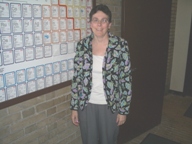 Ms. Cynthia MacMahon, Professor - Chemistry
B. A. in Chemistry 1981, Drew University
M. S. in Organic Chemisty 1989 Purdue University
Hudson- Valley American Chemical Society Board
American Chemical Society Member
Who's Who In America's High School Teachers
Cynthia came to Orange County Community College through a winding road. Cynthia started her career in 1981 at BOC. She went on to graduate school. Later, she worked at Texaco doing computational and analytical chemistry to solve many of Texaco's oil and fuel additive problems. After Texaco's dramatic down fall, she moved onto teaching high school Chemistry. Finally she decided that her real talent was still in teaching, but at a higher level.
Faculty
Professor Emeritus
Dr. John Cummins - Physics
Dr. Pak Leung - Chemistry
Lawrence O'Brien - Geology
Adjunct Faculty
Mr. Thomas Blon, Instructor - Astonomy
Dr. Margaret Brewer-LaPorta, Instructor
Mr. Andrew Cook, Instructor - Chemistry
Mr. Christopher George, Instructor - Physics
Ms. Janet Haas-Broda, Assistant Professor - Chemistry
Dr. William Istone, Associate Professor - Astronomy, Chemistry
Ms. Dori Johnson, Instructor - Geology
Mr. Charles Kocsis, Assistant Professor - Chemistry, Physics
Ms. Stacey Moegenburg, Professor - Architecture
Mr. James Santos, Instructor - Chemistry
Mr. Anthony Soricelli, Associate Professor - Geology, Physics
Ms. Shirley Thompson, Assistant Professor - Chemistry
Ms. Dayna Valenti, Instructor - Geology
Our Pledge
Caring environment
Highly experienced professors
Small classes
Closely knit student community
Easy access to help
Quality lectures and quality education
Scheduling personalized for each individual
Are you ready to write your story?