Pre-Semester Acceleration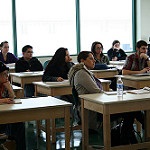 Pre-Semester Accelerations are two-week non-credit immersion experiences. Students spend three hours a day with an instructor and/or in-class tutor to reinforce writing or math skills. Students who are successful in the highest levels of English and Mathematics will be able to move on to college-level coursework in the Fall semester. The schedule of available accelearations programs varies from summer to summer. Check with the College to see what courses may be scheduled for the upcoming summer.
This is for you if...
You are a new student and you have one of the following placements :
WRT 030 - Basic Writing Skills 1 (WRT 030)
WRT 040 - Basic Writing Skills 2 (WRT 040)

OR

MAT 010 - Fundamentals of Arithmetic

MAT 020 - Fundamentals of Algebra

AND

You feel you are ready for a two-week immersion experience during which you will refresh or brush up on skills in a supportive atmosphere.