Computer Science and Technology
Are you interested in technology and telecommunications?
Do you want receive high-demand training in dynamic growing industries?
Would you like to build a sturdy foundation for your future?
If your answer to any of these questions is yes, you should strongly consider examining what the SUNY Orange Computer Science and Technology Department has to offer.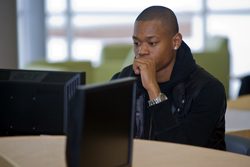 Computer Science and Technology offers degrees in Computer Networking, Computer Science, Web Development, and Cyber Security.
These programs help prepare students for transfer to four-year colleges and for careers in system administration, network security, website management, bio-medics, renewable technologies and more. Student clubs and activities offer additional experience in team-building and learning.
"
During the course of my studies at SUNY Orange, I obtained an education that far exceeded my expectations. The professors were always available before or after classes for any questions I had, and a major contributor to my career was the internship that was provided by the College. "
- Daniel A. Cosh
---
As a SUNY Orange Computer Science and Technology student, you will:
obtain an affordable, high-quality education
work with the latest equipment and software
receive instruction from experienced and dynamic faculty
For further information on career possibilities within the computer science industry, visit ComputerScience.org and Center for Online Education †(External website)
Regardless of your academic path, you will find that the Computer Science and Technology Department has something for you. Please feel free to contact the Department Chair, Bruce Roman at (845) 341-4523 or via email at: bruce.roman@sunyorange.edu, or an Admissions counselor, for more information.