Sojourner Truth Biography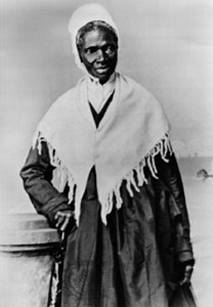 Isabella Baumfree (Sojourner Truth) was born in 1797 in Ulster County, a Dutch settlement in upstate New York. She was born into slavery and spoke only Dutch until she was sold and separated from her family at the age of eleven. Isabella was sold several times, and while owned by the John Dumont family in Ulster County, married Thomas, another of Dumont's slaves. She had five children with Thomas. In 1827, New York law emancipated all slaves, but Isabella had already left her husband and run away with her youngest child. While free, Isabella discovered that a member of the Dumont family had sold one of her children to slavery and since this son had been emancipated under New York Law, Isabella sued in court and won his return.
Isabella settled in New York City and did missionary work among the poor and was associated briefly with a Christian community headed by a dynamic leader who turned out to be a scoundrel. In 1843, she took the name Sojourner Truth, believing this to be on the instructions of the Holy Spirit and became a traveling preacher (the meaning of her new name).
As was common in that era, religious fervor led her into association with reformers who hoped to create a better world. Tall, gaunt, and commanding, she lent her powerful talents as a speaker to the antislavery movement, joining forces with abolitionists such as Fredrick Douglas. When she happened upon a women's rights convention, she made that her cause as well. Illiterate all her life, she spoke more often among whites than her own people; her homely eloquence and native wit disarmed hostile crowds.
During the Civil War, Sojourner Truth raised food and clothing contributions for black regiments, and met Abraham Lincoln at the White House in 1864. While there, she challenged the discrimination that segregated street cars by race and won, permitting blacks to ride at the front of the cars with whites.
At the Civil War's end she worked as a counselor to the newly freed slaves who gathered in Washington. Hoping to aid in their transition to freedom, she circulated a petition for public lands to be set aside in the West for a "Negro state." She continued to speak, proclaiming God's love and the rights of the disadvantaged.
Suggested Reading
Bernard, Jacqueline. Journey Toward Freedom: The Story of Sojourner Truth. New York: Feminist Press at the City University of New York: Distributed by Taman Co., 1990.
Mabee, Carleton & Susan Mabee Newhouse. Sojourner Truth - Slave, Prophet, Legend. New York: New York University Press, c1993.
McKissiak, Patricia & McKissiak, Fredrick. Sojourner Truth: Ain't I a Woman? New York: Scholastic Inc, 1992
Narrative of Sojourner Truth. New York: Dover Publications, 1997.
Painter, Nell Irvin, editor. The Narrative of Sojourner Truth. New York: Penguin Books, 1998.
Stetson, Erlene & David, Linda. Glorying in Tribulation: The Lifework of Sojourner Truth. East Lansing: Michigan State University, 1994.