Performing Arts: Music Degree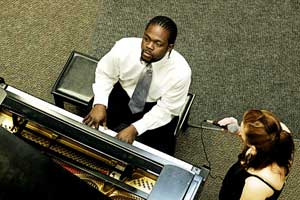 "I found a home in the music department here. The teachers work with you and make you feel very comfortable. And with the performance groups that the College sponsors, you can always find people who are interested in music and willing to rehearse."
-- Carlton Jay
Why Music?
Music is one of the greatest means of human expression. It is everywhere, serving as the soundtrack of our lives, enhancing our joys, comforting us in sorrow and mirroring our experiences. Career opportunities involving music are numerous and diverse.
Why Music at SUNY Orange?
You can enjoy a wide variety of music courses in three different emphasis areas: music performance, jazz and commercial music, or music business. You can polish your skills as a performing musician or prepare for possible transfer to a four-year program. You will have the chance to participate in active musical ensembles that enrich the community through a variety of performances or take advantage of an ongoing visiting artist series that enables students to learn directly from some of the best contemporary performing artists in workshops.
Top Five Reasons You Should Study Music at SUNY Orange:
You will obtain an affordable, high-quality music education close to home, provided by a dedicated and experienced faculty.
Students enjoy extensive performance opportunities in a variety of musical ensembles.
Experience master classes and performances by guest professionals.
The College is committed to making ongoing programmatic improvements that increase support for our students and enhance their success.
You will be well-prepared if you choose to pursue a four-year degree in music.
Program Description
The Associate in Applied Science degree program in Performing Arts: Music prepares graduates for employment in a field connected with music or possible transfer to a four-year music program.
Students select one of three emphasis areas: Music Performance, Jazz and Commercial Music or Music Business. For those seeking transfer, an articulation agreement with SUNY Purchase has been established giving students the opportunity for seamless transition to a four-year program.
The program includes core courses in music history, theory and related musicianship skills, piano, instrumental or vocal performance, acoustics, and music business. Performing ensembles enable students to learn in active, collaborative settings and offer ongoing service and enrichment to the College and community through a variety of musical performances. Courses in arranging and improvisation are required for students choosing the Jazz and Commercial option. Students selecting the Music Performance or Jazz and Commercial options must complete four credits of private music instruction with a department-approved teacher and are responsible for the private instructor's fee.
| Career Opportunities | |
| --- | --- |
| Performing/Recording Artist | Record Production |
| Music Composition | Music Education |
| Media Careers | Music Retail/Wholesale |
| Music Publishing | Music Law |
| Music Management/Promotion | Publicity |
| Facility/Concert Management | Music Therapy |
| Journalism | Music Library Science |
| Instrument Construction/Repair | |
Upon completion of their degree, students will be able to:
Demonstrate proficiency in music theory, notation, harmony and part-writing.
Apply their knowledge of music theory, notation and harmony at the keyboard.
Demonstrate proficiency in sight reading on their instrument and sight singing.
notate musical materials from dictation.
Demonstrate proficiency on the piano through the performance of standard
repertory.
Perform in an instrumental or vocal ensemble.
Demonstrate knowledge of music history, musical styles, genres and composers.
Demonstrate fundamental understanding of music business.
Demonstrate fundamental understanding of acoustics.
Pursue a career in the field of music and/or transfer to a baccalaureate music
program.