Performing Arts: Music Requirements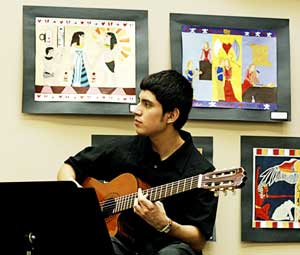 The Associate in Applied Science degree program in Performing Arts: Music prepares graduates for employment in a field connected with music or possible transfer to a bachelor's degree music program.
Below is the suggested course sequence to complete the Performing Arts: Music degree.
NOTE: A.A.S. degrees are primarily intended to prepare students for immediate employment; however, transfer opportunities exist in some areas.
If you plan to pursue a four-year degree program, see department chair or faculty advisor as soon as possible.
MUSIC EMPHASIS
First Semester
| Course # | Course Name | Credits |
| --- | --- | --- |
| ENG 101 | Freshman English 1 | 3 |
| MAT ___ | Math (MAT 101 or higher) | 3 |
| MUS 123 | Basic Musicianship 1 | 5 |
| MUS ___ | Piano* | 2 |
| MUS 141 | Group Voice 1 | 2 |
| MUS 1__ | Ensemble** | 1 |
| MUS 1__ | Private Instruction*** | 1 |
Second Semester
| Course # | Course Name | Credits |
| --- | --- | --- |
| ENG 102 | Freshman English 2 | 3 |
| PHY 108 | Acoustics | 3 |
| MUS 124 | Basic Musicianship 2 | 5 |
| MUS ___ | Piano* | 2 |
| MUS 142 | Group Voice 2 | 2 |
| MUS 1__ | Ensemble** | 1 |
| MUS 1__ | Private Instruction*** | 1 |
Third Semester
| Course # | Course Name | Credits |
| --- | --- | --- |
| ___ | Social Science Elective | 3 |
| MUS 223 | Advanced Musicianship 1 | 4 |
| MUS ___ | Piano* | 2 |
| MUS 10_ | Music History**** | 3 |
| MUS 109 | Music Business | 3 |
| MUS 1__ | Ensemble** | 1 |
| MUS 1__ | Private Instruction*** | 1 |
Fourth Semester
| Course # | Course Name | Credits |
| --- | --- | --- |
| ___ | Social Science Elective | 3 |
| MUS 224 | Advanced Musicianship 2 | 4 |
| MUS ___ | Piano* | 2 |
| MUS 10_ | Music History**** | 3 |
| MUS 1__ | Ensemble** | 1 |
| MUS 1__ | Private Instruction*** | 1 |
Total Credits: 65
*MUS 131, 132, 231, 232, 233, 234
**MUS 151, 153, 155, 157, 159, 161
*** MUS 170-177
****MUS 103, 104, 105, 107
MUSIC BUSINESS EMPHASIS
First Semester
| Course # | Course Name | Credits |
| --- | --- | --- |
| ENG 101 | Freshman English 1 | 3 |
| MAT ___ | Math (MAT 101 or higher) | 3 |
| MUS 123 | Basic Musicianship 1 | 5 |
| MUS ___ | Piano* | 2 |
| BUS 103 | Introduction to Business | 3 |
Second Semester
| Course # | Course Name | Credits |
| --- | --- | --- |
| ENG 102 | Freshman English 2 | 3 |
| PHY 108 | Acoustics | 3 |
| MUS 124 | Basic Musicianship 2 | 5 |
| MUS ___ | Piano* | 2 |
| ECO 202 | Micro-Economics | 3 |
Third Semester
| Course # | Course Name | Credits |
| --- | --- | --- |
| MUS 223 | Advanced Musicianship 1 | 4 |
| BUS 201 | Business Law 1 | 3 |
| MUS ___ | Piano* | 2 |
| MUS 10_ | Music History**** | 3 |
| MUS 109 | Music Business | 3 |
| MUS 1__ | Ensemble** | 1 |
| MKT 101 | Principles of Marketing | 3 |
Fourth Semester
| Course # | Course Name | Credits |
| --- | --- | --- |
| ___ | Social Science Elective | 3 |
| MUS 224 | Advanced Musicianship 2 | 4 |
| MUS ___ | Piano* | 2 |
| MUS 10_ | Music History**** | 3 |
| MUS 1__ | Ensemble** | 1 |
| ACC 153 | Financial Accounting | 4 |
Total Credits: 68
*MUS 131, 132, 231, 232, 233, 234
**MUS 151, 153, 155, 157, 159, 161
*** MUS 170-177
****MUS 103, 104, 105, 107
JAZZ / COMMERCIAL EMPHASIS
First Semester
| Course # | Course Name | Credits |
| --- | --- | --- |
| ENG 101 | Freshman English 1 | 3 |
| MAT ___ | Math (MAT 101 or higher) | 3 |
| ___ | Social Science Elective | 3 |
| MUS 123 | Basic Musicianship 1 | 5 |
| MUS ___ | Piano* | 2 |
| MUS 161 | Jazz Ensemble | 1 |
| MUS 1__ | Private Instruction*** | 1 |
Second Semester
| Course # | Course Name | Credits |
| --- | --- | --- |
| ENG 102 | Freshman English 2 | 3 |
| PHY 108 | Acoustics | 3 |
| MUS 124 | Basic Musicianship 2 | 5 |
| MUS ___ | Piano* | 2 |
| MUS 161 | Jazz Ensemble | 1 |
| MUS 1__ | Private Instruction*** | 1 |
Third Semester
| Course # | Course Name | Credits |
| --- | --- | --- |
| MUS 223 | Advanced Musicianship 1 | 4 |
| MUS ___ | Piano* | 2 |
| MUS 105 | History of Jazz | 3 |
| MUS 109 | Music Business | 3 |
| MUS 161 | Jazz Ensemble | 1 |
| MUS 163 | Jazz Improvisation 1 | 2 |
| MUS 1__ | Private Instruction*** | 1 |
Fourth Semester
| Course # | Course Name | Credits |
| --- | --- | --- |
| ___ | Social Science Elective | 3 |
| MUS 224 | Advanced Musicianship 2 | 4 |
| MUS ___ | Piano* | 2 |
| MUS 10_ | Music History**** | 3 |
| MUS 161 | Jazz Ensemble | 1 |
| MUSC 164 | Jazz Improvisation 2 | 2 |
| MUS 226 | Elements of Arranging | 3 |
| MUS 1__ | Private Instruction*** | 1 |
Total Credits: 68
*MUS 131, 132, 231, 232, 233, 234
**MUS 151, 153, 155, 157, 159, 161
*** MUS 170-177
****MUS 103, 104, 107