Diversity Events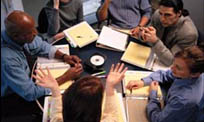 Informative links
Follow the Heritage and History Months Events calendar or land on the homepage, scroll down and choose from several links including Twelve Women to Know This Black History Month, African American Pioneers in Aviation and Space, Martin Luther King and Ida B. Wells.
Scroll down to see the Images of African American Women Change Makers or search the site.
National Museum on African American History & Culture
This whole site and institution is a gem. Of particular interest may be the Talking About Race page.
Talks and Forums
(This begins with a crossover from Black History Month to Women's History Month.)
How one journalist risked her life to hold murders accountable.
TED-ED, Christina Greer
In the late 1800's, lynchings were happening all over the American South, often without any investigation or consequences for the murderers. A young journalist set out to expose the truth about these killings. Her reports shocked the nation, launched her journalism career and a lifelong pursuit of civil rights. Christina Greer details the life of Ida B. Wells and her tireless struggle for justice.
The Urgency of Intersectionality.
TEDWomen 2016, Kimberle Crenshaw
Now more than ever, it's important to look boldly at the reality of race and gender bias -- and understand how the two can combine to create even more harm. Kimberlé Crenshaw uses the term "intersectionality" to describe this phenomenon; as she says, if you're standing in the path of multiple forms of exclusion, you're likely to get hit by both. In this moving talk, she calls on us to bear witness to this reality and speak up for victims of prejudice.
The trauma of systemic racism is killing Black women. A first step toward change...
TED2017, T. Morgan Dixon and Vanessa Garrison
T. Morgan Dixon and Vanessa Garrison, founders of the health nonprofit GirlTrek, are on a mission to reduce the leading causes of preventable death among Black women -- and build communities in the process. How? By getting one million women and girls to prioritize their self-care, lacing up their shoes and walking in the direction of their healthiest, most fulfilled lives.
Museums should honor the everyday, not just the extraordinary.
View on TED.com: Museums should honor the everyday, not just the extraordinary.
TEDWomen 2018, Arian Curtis
Who deserves to be in a museum? For too long, the answer has been "the extraordinary" -- those aspirational historymakers who inspire us with their successes. But those stories are limiting, says museum curator Ariana Curtis. In a visionary talk, she imagines how museums can more accurately represent history by honoring the lives of people both extraordinary and everyday, prominent and hidden -- and amplify diverse perspectives that should have always been included.