Satisfactory Academic Progress Policy
SUNY Orange is required to monitor the academic progress of each applicant and certify that the applicant is making satisfactory academic progress toward earning their degree. Both Federal and State regulations require students to meet basic academic standards in order to remain eligible for financial assistance. Failure to meet one or more of the established standards of Satisfactory Academic Progress (SAP) will make a student ineligible.
All previous academic history, even if the student didn't receive financial aid, is included in the academic review. Compliance with state standards is reviewed each semester; federal standards once a year. It is the student's responsibility to monitor academic progress and to understand the criteria needed to maintain both federal and state financial aid eligibility.

Information about our Federal and State SAP Standards, Probation, and SAP Appeals can be found by selecting the corresponding links in the left menu.
Procedures
Federal SAP is reviewed at the end of each academic year, at the end of the Spring semester. SUNY Orange's academic year for Associate Degree programs is measured from May to May. Federal regulations require that these standards apply to all students who receive Federal Financial Aid.
State SAP is reviewed each semester . State regulations require that these standards apply to all students who receive NYS State Aid.
If you fail to meet the minimum completion percentage (attempted vs. accumulated credit hours), maintain the minimum cumulative grade point average, or credit accruals, you will forfeit your federal and/or state eligibility.
If a student have reached the maximum number of attempted credits without earning a degree, you will be excluded from further participation in federal financial aid programs (Pell grants, FSEOG, Federal Work Study, & Direct Loans) as well.
How to Check Your Academic Progress
1. Visit any SUNY Orange webpage and select the

"mySUNYOrange" icon on the top of the page to enter the mySUNYOrange student portal.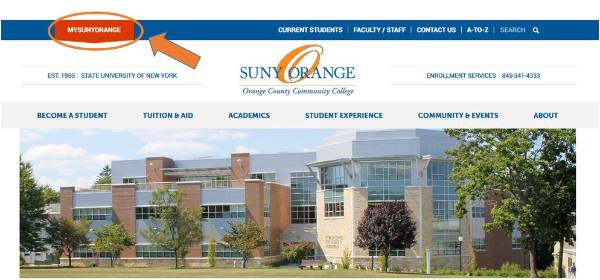 2. Sign-in using your mySUNYOrange student sign-in credentials. You must be admitted to the college to receive these credentials.



3. Once signed in, the main menu SUNY Orange's portal will be displayed. On the left hand menu, select the "Student Finances" link to enter Student Finances section of the portal.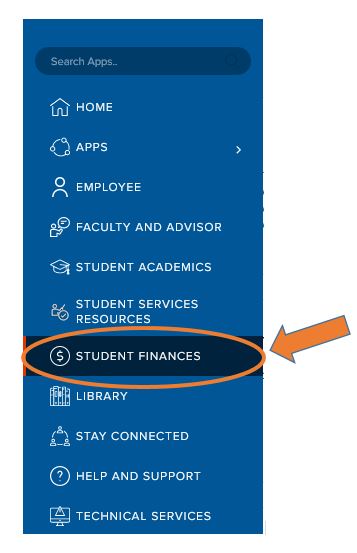 4. On the Student Finances Page, select "Progress" under Financial Aid Requirements.
5. Select the "AID YEAR" for which you are attending SUNY Orange and receiving financial aid. Be sure to hit "SUBMIT" after you choose the aid year.

Example:
2022-2023: Summer 2022*, Fall 2022, Winter 2023, Spring 2023, Summer 2023*

2021-2022: Summer 2021*, Fall 2021, Winter 2022, Spring 2022, Summer 2022*

*Summer is considered a cross-over term, so it could either end an academic year or start a new one.

6. Select the "Academic Progress" tab under the Financial Aid Tab

SAP Appeal Deadlines
You must submit your SAP Appeal by the SAP Appeal deadline. SAP Appeal reviews may take up a minimum of 10 business days to review. If additional information is needed, we will post requirements to your MySUNYOrange Banner Self-Service.
Submitting an appeal does not guarantee funding or approval.
In order to secure your courses from being dropped, you should have a payment arrangement in place with Student Accounts while we review your documentation. You can learn more about billing deadlines by visiting: Student Accounts.
For instructions on checking requirements your requirements, visit How to Check your Outstanding Requirements
APPEAL DEADLINES
SUMMER SEMESTER: JULY 1st

FALL SEMESTER: OCTOBER 1st
WINTER/SPRING SEMESTER: MARCH 1st