Behavioral Sciences Department
Are you interested working with people?
Do you want to explore how people think and behave individually or within a group?

Would you like to examine the interactions of family, race, ethnicity and society?
If your answer to any of these questions is yes, you should strongly consider examining what the SUNY Orange Behavioral Sciences Department has to offer.
Behavioral Sciences offers courses that form the basis of two degrees: an A.S. Degree in Human Services, and an A.A. Degree in Liberal Arts: Humanities and Social Sciences.
---
"SUNY Orange gave me the tools and discipline I needed not only to succeed but also to excel as I continued my education. I always recommend and encourage young students and adults looking to continue their education to attend SUNY Orange."
"
I loved the College, the intimate class settings and the professors. I am confident that future students will feel the same. "
- Barbara Martinez
---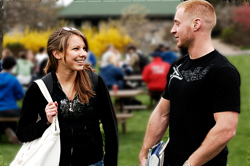 The Associate in Science degree program in Human Services prepares graduates to transfer and complete a bachelor's degree in human services, psychology or sociology. Because of the broad liberal arts component, concentration in psychology and sociology with field experiences in at least two human services agencies, the program also prepares the graduate for employment as a direct care worker.
The Associate in Arts degree program in Liberal Arts: Humanities and Social Sciences spans a wide range of academic interests. Typically, these areas include specific studies in the social sciences, humanities, communication, education, the arts, and criminal justice. This degree allows students working with their advisor to determine the best course of study for their particular area of interest.
As a SUNY Orange Behavioral Sciences student, you will:
obtain an affordable, high-quality education
explore many options before committing to an academic concentration.
work one-on-one with an advisor and develop a portfolio of your work, knowledge and skills.
Our dedicated and experienced faculty will provide individual guidance to help you reach your educational and career goals. Please feel free to contact the department chair, or an Admissions counselor, for more information.