Dr. Damon Ely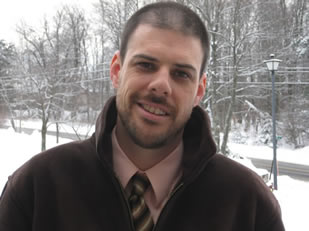 I grew up in beautiful Maine, where I spent much of my time in the woods, on lakes, and by the shore. These experiences gave me a strong appreciation for the environment and I'm endlessly fascinated by the complexities of biological systems. I received my B.S. in Biology at the University of Maine in Orono, ME, my MS in Entomology at the University of Georgia in Athens, GA, and my PhD at Virginia Tech in Blacksburg, VA. My MS research asked how clear-cut logging influences the long-term recovery of stream invertebrate communities, and my doctoral dissertation asked how stream acidification influences nitrogen cycling and stream metabolism. An ecologist by training, I enjoy thinking and reading about the ecosystems of the world because of the focus ecosystems ecology places on the intimate relationship between organisms and the environment.
I am a proud faculty member here at SUNY Orange and look forward to each day I get to spend with my wonderful students. My family and I enjoy exploring the Hudson Valley's wild places and I love to relax at home by playing guitar and watching my young son use his imagination.
Are you ready to write your story?