Dr. Frank Traeger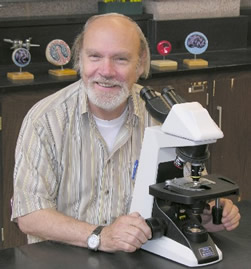 Chair, Department of Biology
I'm Frank Traeger, Chair of the Biology Department. I earned my Bachelors degree in Biology from Marietta College, a small liberal arts college located in Marietta, Ohio known for its strong programs in the natural sciences. Following graduation, I served in the U.S. Army where I completed training in Medical Technology at the U.S. Army Medical Field Service School, Brooke Army Medical Center, in San Antonio, Texas. My military service included a tour of duty in Vietnam where I worked as a toxicologist in the 9th Medical Laboratory and as a medic attached to a Medical Civil Action Program Team bringing medical aid/education to villages and orphanages.
I completed my graduate education in the Department of Zoology and Physiology at Miami University, Oxford, Ohio from which I received both my M.A. and Ph.D. degrees. My graduate research entailed an in vitro analysis of myodysgenesis (abnormal muscle development) using cell culture electron microscopy and cell hybridization (an early form of genetic engineering) to study the effects of a mutant gene on muscle differentiation.
While at Miami I gained teaching experience as a Teaching Assistant and later as a Graduate Teaching Fellow guided by a group of committed and inspiring mentors. The experience and the satisfaction of watching students progress and attain their goals led me to actively seek a teaching career. At SUNY Orange, I am impressed by the work ethic of our students and the commitment of our faculty to provide a high quality educational experience with a personal touch!
I enjoy competitive sailing, hiking, and participation in AKC events with my Champion Gordon Setters "Jazz" and "Kira". Pictures are available in my office.