How to View and Check your Award Status
Financial aid packages for current and admitted students can be accessed online through SUNY Orange's Banner Self‐Service system. Follow the steps below to view your financial aid package and to and accept or decline any student loans that may have been offered to you.
Students Not Yet Admitted to the College:
You must complete your Admissions Application before gaining access to SUNY Orange Banner Self-Service. Please contact the Admissions Office at (845) 341-4030 or apply@sunyorange.edu
1. Visit any SUNY Orange webpage and select the

"mySUNYOrange" icon on the top of the page to enter the mySUNYOrange student portal.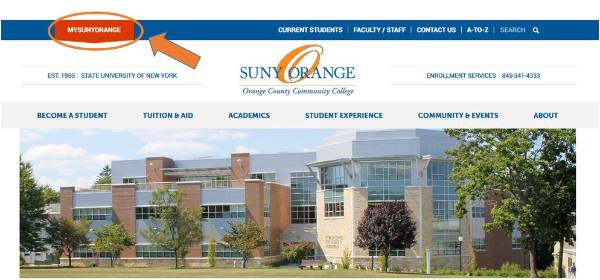 2. Sign-in using your mySUNYOrange student sign-in credentials. You must be admitted to the college to receive these credentials.



3. Once signed in, the main menu SUNY Orange's portal will be displayed. On the left hand menu, select the "Student Finances" link to enter Student Finances section of the portal.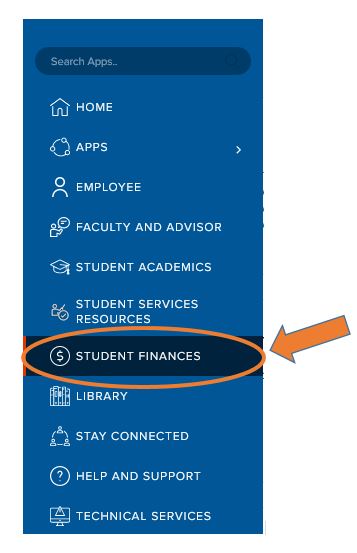 4. On the Student Finances Page, scroll to the bottom of the page, select "Award for Aid Year" under Financial Aid Awards. You can also review Award Payment Schedule and Loan Application History.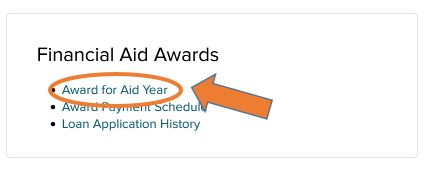 5. Select the "AID YEAR" for which you are attending SUNY Orange and receiving financial aid.
Be sure to hit "SUBMIT" after you choose the aid year.
Example: 2022-2023: Summer 2022*, Fall 2022, Winter 2023, Spring 2023, Summer 2023*
2021-2022: Summer 2021*, Fall 2021, Winter 2022, Spring 2022, Summer 2022*

*Summer is considered a cross-over term, so it could either end an academic year or start a new one.

6. Select the "Award Overview" tab and review your award for the specific year. On this tab you are also able to View & Print your official "SUNY Smart Track Award Letter."

7. Select the "Accept Award Offer" to review and accept your financial aid package. Federal and State Grants are automatically on behalf of the student once approved and finalized. Students are responsible for accepting or declining their Federal Direct Loans and/or Federal Work Study offers, if applicable. You can accept the full award, accept partial offer, or decline Awards. All outstanding requirements must be completed before your award package is finalized. View "How to Check Your Outstanding Requirements" to learn how to view your outstanding financial aid requirements.
AWARD STATUS GUIDE
Estimated: student must apply or complete application
Offered: student must accept or decline the offer
Actual/Accepted: no further action requirement on fund need by the student
Declined: declined by the student
Cancelled: student ineligible & fund cancelled by the school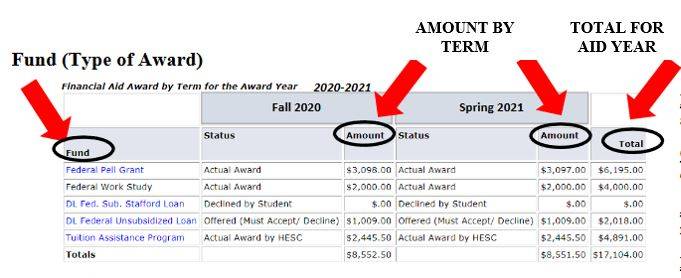 There are several important tabs on this page that will give you specific information regarding your account.
"General Information" gives eligibility information, information about Federal Student Aid and how to read your award letter, additional informational about bill pay, and contact Information.
"Award Overview" is your main overview of your financial aid eligibility such as Cost of Attendance (COA), cumulative loan information, expected enrollment. Please note that the Cost of Attendance is not a bill. The Cost of Attendance figures are based on estimates of what it will likely cost a student to attend SUNY Orange. Books and Supplies, Personal expenses, Room and Board and Transportation costs are managed by the student and are only estimates. These costs will not be paid to the College and are considered indirect costs that the student will have over a nine month period. The Student Accounts Office is responsible for sending bills for each semester for Tuition and Fees.
"Resources/Additional Information" is where you would enter any outside resource payments otherwise known as Estimated Financial Assistance (EFA). Under 34 CFR 685.102(b), "Estimated financial assistance: (1) The estimated amount of assistance for a period of enrollment that a student (or a parent on behalf of a student) will receive from Federal, State, institutional, or other sources, such as scholarships, grants, net earnings from need-based employment, or loans, including but not limited to- ... (iii) Any educational benefits paid because of enrollment in a post-secondary education institution, or to cover post-secondary education expenses;..."
An example: A student wins a contest that is limited to students at a certain school; the prize is a $500 scholarship. Did the student win the award because she was enrolled? Yes, they did. She had to be enrolled in order to enter the contest. The scholarship is financial aid, even though it was won based on a contest. As such, that prize would be considered EFA when packaging the student.
"Terms and Conditions" gives basic award program information regarding federal, state, and institutional aid such as Federal Grant and Loans, State Grants, Institutional Aid, and Satisfactory Academic Progress. All students are required to maintain Satisfactory Academic Progress for Financial Aid purposes in order to received federal, state, and institutional aid.
"Special Message" gives you messages released by the financial aid office regarding your financial aid package.
Question regarding financial aid matters should be directed to the Financial Aid Office at finaid@sunyorange.edu or 845-341-4190.