Frequently Asked Questions
How do I file for Financial Aid?
To be considered for federal, state and some institutional aid programs at SUNY Orange, students must complete the Free Application for Federal Student Aid (FAFSA) and NYS Payment application each year. Both applications are available for October 1st for the next aid year.
Once we have received a valid FAFSA, and you have applied and been admitted to the college, you will have access to a personalized financial aid package via your mySUNYOrange Banner Self-Service. Follow the steps below to apply for aid.
If you would like a generic estimate prior to this, you can view and print a copy of an estimated personalized cost of attendance by visiting the SUNY Net Price Cost Calculator. Select Orange from the dropdown. Additional financial information can be found at the NCES College Navigator site and College Scorecard.
Step 1: Create a Federal Student Aid (FSA) ID
The FSA ID is used to log into certain U.S. Department of Education websites and electronically sign FSA documents. The student applying for financial aid, and at least one parent in the household (if a dependent student), should create a FSA ID. Visit the create an account page and follow the instructions. Once submitted, you will be able to use your FSA ID right away.
Step 2: Complete the FAFSA
After receipt of your FSA ID, students complete the FAFSA. For all forms of financial aid with limited resources, SUNY Plattsburgh gives priority to students whose FAFSA data is processed as close as possible to Oct. 1. While completing the FAFSA online, list SUNY Plattsburgh as one of your school selections.
Step 3: Complete the NYS Payment Application
New York state residents also have the opportunity to apply for the Tuition Assistance Program (TAP) online. On the confirmation page at the end of the FAFSA, select the appropriate link to submit your state aid application. If you overlook this link, visit tap.hesc.ny.gov/totw/ to apply. This application may also be needed to determine eligibility in other NYS aid programs, like the Excelsior Scholarship.
Step 4: Apply for the Excelsior Scholarship
Learn more about this scholarship opportunity, participation requirements and application availability at www.hesc.ny.gov.
Step 5: Receive Your Financial Aid Packge
The financial aid office begins emailing financial aid notifications in Late April / Early May for the upcoming aid year. Your financial aid package details your financial aid eligibility and advises you of additional steps/actions to finalize your awards. This will be listed on your mySUNYOrange Banner Self-Service. You must be admitted to the college to gain access to your Banner Self-Service.
Step 6: Respond to Inquiries
During this entire process, respond promptly to any inquiries from federal and state agencies and from the financial aid office. Try to respond timely, as delays could impede the review process, emailing of aid summaries, and disbursement of funds.
Step 7: Bill Payment
Process your tuition bill on mySUNYOrange once it is available online. (Select the Orange mySUNYOrange link on the home page and login using your mySUNYOrange ID and Password. You will receive an email from us when your bill is ready. Pay close attention to its due date, and follow the instructions for making payment and other processing activities.
What is the FAFSA-IRS Data Retrieval Process? Why should this be used on the FAFSA?
The U.S. Department of Education has streamlined the financial aid application process and to make it more accurate.
Therefore, all FAFSA on the Web applicants, and the parents of dependent applicants, who indicate that they have filed their federal income tax returns will be directed to use the FAFSA-IRS Data Retrieval Process to complete their FAFSA more easily and accurately.
This simple and time saving feature allows financial aid applicants and their parents to retrieve, directly from the Internal Revenue Service (IRS), certain income and information from income tax returns and to automatically transfer that information to the FAFSA application.
Remember, the FAFSA using IRS Tax Data from two-years prior. For example, if you are applying for the 2022-2023 aid year, then you would enter 2020 IRS Tax Data.
IRS data retrieved by the tax filer while updating the FAFSA is considered acceptable documentation if an applicant is selected for financial aid verification, even though it was not retrieved with the initial application.
What if I don't want to utilize the FAFSA-IRS Data Retrieval Process?
Applicants who choose not to use the FAFSA-IRS Data Retrieval Process will be informed before being allowed to proceed with the FAFSA that their applications that they will need to enter their IRS Tax Data manually.

Why can't I use the FAFSA-IRS Data Retrieval Process?
The IRS website might be offline or experiencing some other technical issues.
If you filed your taxes electronically within the last three weeks or via postal mail within the last 11 weeks, your tax information might not be available to be transferred into your Free Application for Federal Student Aid (FAFSA®) form yet.


In order for the IRS DRT to work properly, you must enter all of your information, including your address, on the IRS website exactly as it appears on your tax returns.
Your federal tax return indcated a balance owed, which may result in a delay in processing.
If you are unable to use the IRS Data Retrieval Tool, then you will need to manually enter your IRS 1040 Tax Information.
I was selected for federal verification. Where can I find out more information?
SUNY Orange has Partner with Inceptia Verification Gateway to expediate the Federal Verification Process. To learn more about federal verification, please our SUNY Orange Verification Process page.
For verification, how do I request a tax return transcript from the Internal Revenue Service (IRS)?
A tax filer can request a transcript, free of charge, of their tax return from the Internal Revenue Service (IRS) in one of three ways (via an online request, telephone request, or a paper request form). The easiest two ways are by an online request or by a telephone request. Instructions to request a tax return transcript are available at the irs.gov website.
It is required that all IRS Tax Return Transcripts be received directly by the tax filer. Once received, you can securely upload the documents into Inceptia Verification Gateway or through the mySUNYOrange Student Portal.
If you are unable to obtain a IRS Tax Return Transcript, you may submit a clear, signed copy of your IRS 1040 Tax Return.
How long will it take for an IRS tax return transcript to be received in the mail?
If successfully validated, tax filers can expect to receive a paper IRS Tax Return Transcript at the address included in their online or telephone request, within 7 to 14 business days from the time the request was successfully transmitted to the IRS. For those using a paper request form (IRS Form 4506T-EZ) http://www.irs.gov/pub/irs-pdf/f4506tez.pdf), tax filers can expect to receive their transcript within 5 to 15 days from the time the IRS receives and processes their signed request.
How do tax filers with special tax filing circumstances complete verification?
The U.S. Department of Education states that some tax filers with special tax filing circumstances are ineligible to use the FAFSA-IRS Data Retrieval Process and may be selected for verification. The U.S. Department of Education describes tax filers as having special tax filing circumstances for verification if they:
Filed a joint tax return and are:

- Separated, divorced, or widowed.

- Are married to someone other than the individual included on the joint tax return.

Are a married independent applicant with a spouse who filed separate tax returns.

Are the parents of a dependent student who filed separate tax returns.

Were granted an extension to file a tax return.

Filed a foreign tax return or a tax return from Puerto Rico and therefore cannot obtain a tax transcript from the Internal Revenue Service.

You can obtain tax information in these situation by Requesting a 4506-T
I have accepted my Federal Direct Loan, but now it says I have to complete an Entrance Counseling and Master Promissoy Note.
Entrance counseling (DLENI) for undergraduate students who are borrowing a Federal Direct Loan. It is required if you have not previously received a Direct Subsidized Loan or a Direct Unsubsidized Loan. It is used to ensure that you understand the responsibilites and obligations you are assuming when borrowing a federal loan. Loan Entrance Counseling will take approximately 30 minutes to complete.
If you have previously completed Entrance Counseling for another college or university, you are required
to complete it again. You're an undergraduate student if you are enrolled in an undergraduate course of study that usually doesn't exceed four years and that leads to an undergraduate degree or certificate.
The Master Promissory Note (DLMPN) is for Direct Subsidized Loans and Direct Unsubsidized Loans and is a legal document in which you promise to repay your loan(s) and any accrued interest and fees to the U.S. Department of Education. It also explains the terms and conditions of your loan(s).
The DLMPN is transferable between schools.
You can learn more about the Federal Direct Loan program by visiting here: Direct Loans
How do I complete a Direct Loan Entrance Counseling (DLENI)?
1. Visit StudentAid.Gov

2. Log In using your Federal Student Aid ID (FSAID) and Password.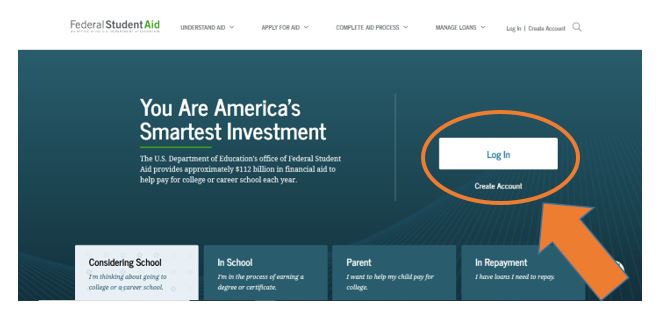 3. Under "Complete Aid Process" select "Complete Entrance Counseing"

4. Select "Start" by "I am an Undergraduate Student"

5. After reading information and selecting "Continue," you will see "Let's Notify Your School." It's very importanto add SUNY Orange to your Direct Loan Entrance Counseling. Please note that SUNY Orange is under "Orange County Community College." If our school is not listed under "Choose a School From Your Account," which will list schools you may have previously attended, then select "I want to search for a school instead."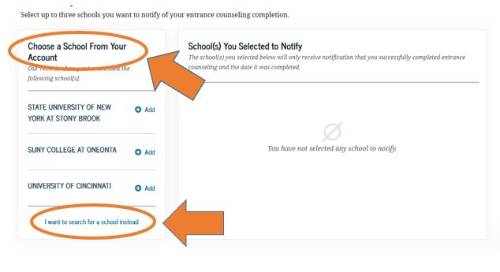 6. If you searching for our school, selected "New York" for State and "Orange County Community College" for Search School by Name. Select "Orange County Community College" as the School to Notify. Then Hit Continue.


How do I complete a Direct Loan Entrance Counseling (DLMPN)?