News and Photos
Physical Therapist Assistant Profession Turns 50
2019 marks the 50th anniversary of the first physical therapist assistant (PTA) graduates. Though a half-century may seem like a long time, the rise of the PTA from something that seemed like a good idea to a recognized, well-established, and in-demand profession integral to health care represents a remarkably short ascendance. Today, it's hard to imagine the delivery of physical therapy without PTAs on the team.
---
Payment and Practice Management Update
New Anthem UM Vendor in 5 States May Be the Beginning of a Wider Shift

Physical therapists who bill Anthem Blue Cross-Blue Shield (BCBS) in California, New York, Indiana, Wisconsin, and Louisiana will see a new utilization management (UM) vendor in town. APTA has learned that Anthem BCBS has begun migrating to a new UM vendor, starting with the 5 states listed above. The new UM group is a subsidiary of Anthem known as AIM Specialty Health and replaces previous UM vendor OrthoNet in many states. The migration began April 1, 2019, for Medicaid patients in New York, Indiana, Wisconsin, and Louisiana. The start date in California is delayed but when initiated will include all commercial enrollees.

---
2018: A Very Productive Year
After 20 years of temporary exceptions and other implementation delays, there is a secured permanent fix to the Medicare therapy cap. Other notable legislative and regulatory achievements include, enactment of comprehensive opioid legislation that increases awareness and access to nonpharmacological treatment options, enactment of the Sports Medicine Licensure Clarity Act to ensure physical therapists have liability insurance when working with teams across state lines, the elimination of functional limitation reporting, and the expansion of telehealth services in the Veterans Administration and Medicare Advantage. The Physical Therapy Interstate Licensure Compact continued to make progress, with the first licensure privilege being issued and compact legislation enacted in 21 states. (from APTA PTeam Alert Newsletter, December 2018 Edition)
---
Statement Regarding Inpatient Rehab Facilities and Centers for Medicare & Medicaid by CESIG, PTASIG, NCCE (November 27. 2018)
We have known for a long time that Medicare does not consider students to be qualified practitioners. Many of you will remember that we dealt with a similar Medicare regulation in clinical education several years ago with Medicare B. Essentially, the Medicare B regulations allow the student to be in the room and involved, but the therapist is directing all care, is not engaged in anything else, and is present for the whole session. The presence of the student in the room does not make the service unbillable, nor does documentation by a student. We do not know whether this current discussion (PT/PTA Students in Inpatient Rehabilitation Facilities: the minutes that any student treats a patient cannot be counted toward the minute requirement. You cannot get around this by having a therapist co-sign treatments. These seem to be items that reviewers will likely begin to focus on.) will land in a similar place, but we should be reassured that CMS understands the importance of training health professionals and is working with the professional associations.
Until we have more information, we recommend that clinics and CIs use their best judgment on how to involve students in patient care based on the language in the regulations. Documentation by students should indicate that a licensed physical therapist or assistant was present during all patient care.
We have set up a
Discussion Board
on the ACAPT website. It is not password protected, so please share the link. The purpose of the discussion board is to identify questions and concerns and to share comments and potential strategies. Participation can be anonymous if the individual chooses, but we do encourage individuals to identify themselves and/or their role to provide context. We will monitor the discussion board and consult with experts as necessary to resolve questions.
---
NYS Worker's Compensation Board Announces Payment Adjustments
On Tuesday, April 17, 2018, the NYS Workers' Compensation Board (WCB) issued a statement indicating that they plan to revise the current WC Medical Fee Schedule. The announcement states that all providers will receive a positive payment adjustment. The new proposal is scheduled to be made public in June, 2018 and will be open to a 60-day public comment period. The WCB's announcement states that they are planning for the new fee schedules to come into effect October 1, 2018. Also mentioned in the announcement are potential changes to simplify claims submissions and to recognize additional providers (including physical therapists) as authorized providers within the NYS Workers' Compensation System.
---
NPTE Examination Fee Increase in the Year of 2019
NPTE examination fee of $485 was initiated on January 1, 2019.

---
Fixed Date(s) Testing by National Physical Therapist Assistant Examination (NPTAE):
Other Announcements/Legislative Issues
Bill still being decided upon in the NY State Legislature: The High Co Pay Bill A.1063A and S.28A.
---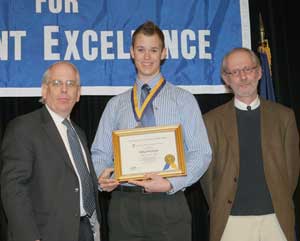 Our own Physical Therapist Assistant student, Philip Dreyhaupt, was one of 238 State University of New York students who received the 2009 Chancellor's Award for Student Excellence. This prestigious award recognizes students who have best demonstrated, and been recognized for, the integration of academic excellence with accomplishments in the areas of leadership, athletics, community service, creative and performing arts or career achievement.
As per above link article, "Phil has been an orientation leader and Student Ambassador. He is president of the PTAcer's, a club comprised of students within the Physical Therapist Assistant program. He has been on the Dean's List during each of his three semesters at SUNY Orange. Within the community, Dreyhaupt is an active member of the Greenwood Lake Volunteer Ambulance Corps, where he was named "Junior Member of the Year" in 2007. He holds the rank of Eagle Scout and currently mentors younger Boy Scouts."
Are you ready to write your story?