Student Club Information
Clubs & Organizations Meetings - Middletown Campus
For club meeting times and information, click here club meetings.
Club
Advisor
Email

All 4 Jesus Campus Fellowship

Matthew Whitson
matthew.whitson@sunyorange.edu
Apprentice Players
David Cohen
david.cohen@sunyorange.edu
Architectural Club
Charles Passarotti
charles.passarotti@sunyorange.edu
Biology Club
Jennifer Merriam
jennifer.merriam@sunyorange.edu
BRIDGES Club
Tarah Miller & Deirdra Molfese

deirdra.molfese@sunyorange.edu

BOA (Board of Activities)
Karen Reid.
karen.reid@sunyorange.edu
Business Club
Daryl Goldberg & Jonathan Goldberg
Computer Club
Cartmell Warrington & Miroslav Krajca

cartmell.warrington@sunyorange.edu

miroslav.krajca@sunyorange.edu

Criminal Justice Club
Robert Cacciatore
robert.cacciatore@sunyorange.edu
C.O.T.A.
Mildred Consolo Melchionne & Donna Frazier

mildredconsolomelchionne@sunyorange.edu

donna.frazier@sunyorange.edu

Engineering Club
John Wolbeck
johnwolbeck@sunyorange.edu

Future Teachers Association

Elizabeth Tarvin & Jennifer Mirecki

elizabeth.tarvin@sunyorange.edu

jennifermirecki@sunyorange.edu

International Club
Jamie Cupolo
jamiecupolo@sunyorange.edu
Magic the Gathering Club
Thomas Giorgianni
thomas.giorgianni@sunyorange.edu
Math Club
David Peterson & Brandee Williams

brandee.williams@sunyorange.edu

Med Lab Tech Society
Nadia Rajsz
nadia.rajsz@sunyorange.edu

Nursing Club




Pamela Hylton

Pamela.hylton@sunyorange.edu
PTA Club
Maria Harjes & Edward Leonard

edward.leonard@sunyorange.edu

Rad Tech Club
Michele Ascione & Nicole Rushing

michele.ascione@sunyorange.edu

nicole.rushing@sunyorange.edu

SADHA
Meg Atwood & Niccole Card

niccole.card@sunyorange.edu

SAGA (Sexuality and Gender Alliance)
Andrea Laurencell Sheridan

andrea.laurencell@sunyorange.edu

Student Senate
Steve Harpst
steve.harpst@sunyorange.edu

Student Veterans of America

Nancy Boylan & Nicole Rushing

nancy.boylan@sunyorange.edu

nicole.rushing@sunyorange.edu

Wrestling Club
Edward Leonard
edward.leonard@sunyorange.edu
Middletown Clubs and Organizations: Be sure to check with the Center for Student Involvement Office to reserve your meeting time and place. If your club does not appear here, please contact Karen Reid via email at karen.reid@sunyorange.edu to be added to the chart.
Clubs & Organizations Meetings - Newburgh Campus
For club meeting times and information, click here club meetings
Club
Advisor
Email
Student Senate
Steve Harpst
steve.harpst@sunyorange.edu
Newburgh
Board of Activities
Adrienne Victor
adrienne.victor@sunyorange.edu
Newburgh
Business Club
(NBC)
Josephina Vondras
josephina.vondras@sunyorange.edu
Newburgh Criminal
Justice Club
Joanne Penzato & Timothy Zeszutek

timothy.zeszutek@sunyorange.edu

Newburgh Nursing Club

Jeane-Marie Oehme
Newburgh Clubs and Organizations: Be sure to check with the Center for Student Involvement Office to reserve your meeting time and place. If your club does not appear here, please contact Adrienne Victor via email at adrienne.victor@sunyorange.edu to be added to the chart.
---
VIRTUAL CLUB GUIDE
Operating your student club in a virtual environment is definitely possible, and the Center for Student Involvement is here to help you make it work! Below is a Virtual Guide which, in conjunction with the Club Resource Manual, will help you to hold meetings and events, recruit and retain members and keep your club on the path to success! As always, contact CSI if you have any questions at studentinvolvement@sunyorange.edu
SETTING GOALS
Think about how your organization would like to approach the rest of the semester now that everyone is interacting remotely. Work with your team to come up with a few tangible goals for the remainder of the year. This can be anything from planning an online program, to thinking about elections and transitions, to hosting one final meeting. Setting goals will help your team stay focused, especially when you are working remotely.
CLUB RECOGNITION /BUDGET REQUESTS
Club recognition and budget request forms are available online:at https://sunyorange.edu/csi/forms.html. Treasurer training sessions will be held during the beginning of the semester to assist clubs in navigating the budget process. Information on these sessions will be emailed to all clubs and advisors. Clubs will continue to use the voucher and credit card request forms and procedures available on the CSI website (https://sunyorange.edu/csi/forms.html). Clubs should first email the completed form and documentation to their club advisor for approval. The advisor should then email the form and documentation to Steve Harpst (steve.harpst@sunyorange.edu) from their SUNY Orange email account. This will be accepted in lieu of their signature on the form. Please direct any questions to steve.harpst@sunyorange.edu or adrienne.victor@sunyorange.edu
PROMOTING YOUR CLUB/RECRUITING MEMBERS
Send your club meeting information to studentinvolvement@sunyorange.edu. We will post your information on our website at https://sunyorange.edu/csi/clubs.html to help students find you and get involved with your club. See the section on Running Meetings in this guide for information on setting up Zoom meetings. We will also be holding a Virtual Club Fair this semester. Watch your club email for information on how to join in on this important recruiting opportunity.
CLUB EMAIL
Last year every recognized student club was assigned a SUNY Orange email address. Your club advisor is the manager of your email address and can assign which officers/club members will receive any emails sent your address. It is extremely important that you work with your advisor to make sure your club email is set up. This will be how CSI and Student Senate will communicate important news and information to your club and how potential new members will reach out to you about joining your club. It should be a high priority for your group to set this up.
RUNNING MEETINGS
Your Club Advisor has access to a ZOOM Professional account and can help you to schedule your club meetings.
Tips for Hosting Effective Virtual Meetings
Preparing for the meeting:
Decide who needs to be present at the meeting. Is this an executive board meeting, a committee meeting, or a general body meeting? Being clear about the meeting's purpose and who needs to attend will ensure engagement from attendees.
Use video calling if possible. Using video increases a feeling of connection and community, so encourage members to turn on their videos if they are able to do so.
Create an agenda and take notes. Set a clear agenda outlining the topics the meeting will cover. This will help guide the meeting and keep everyone on track. We recommend using google docs to create your agenda, so you can use it as a living document and take notes throughout the meeting. This will allow members to see updates in real time.
Establish new meeting norms. Remote meetings probably won't look like in person meetings, and that's okay. Work together to create new norms that work for the group. (For example: Raising your hand to contribute ideas, limiting speaking time to 60 seconds so everyone gets to speak, using the chat function, etc.)
Test meeting technology. Practice using the meeting platform before your meeting time. If you are using a presentation or a Zoom add-on, practice using each function beforehand, so you can ensure the meeting runs smoothly.

During the meeting:
Actively facilitate the meeting. Be sure to create space for members to contribute to the meeting. It's helpful to ask questions like, "What do people think of this idea" or "does anyone have anything to add." Remember that sometimes people will need time to think, so a moment of silence is okay.
Share key takeaways at the end of each meeting. At the end of each meeting, be sure that members have a clear understanding of the next steps. Summarizing key take-aways and action items is a good way to do this.
Have fun! Meeting online doesn't mean that meetings need to be boring. Get creative with your meeting content. Including ice-breakers, check-in questions, and/or games can help keep everyone engaged and connected.
Virtual Icebreakers Packet 2020
Additional Tips:
Create a meeting schedule and stick with it. Creating a consistent meeting schedule will help with members' planning and attendance. If you're able to, stick with the meeting times you had before moving online.
Advertise your meeting. The Center for Student Involvement website is a place where students can find ways to connect while they are at home. Email studentinvolvement@sunyorange.edu if you would like your student organization meeting to be included.
Centralize organization documents. Your organization can use Google docs or any other project management tool to easily keep each other up-to-date and share information.
Find ways to communicate with the group. Use group messaging, GroupMe, Slack, or another platform to stay connected between meetings.
Check-in with your team frequently. Ask the group for feedback on how they feel about the new meeting norms and if they have any feedback or suggestions. This is an adjustment for everyone, so give yourself permission to pivot as needed.
Another platform option for student clubs is FlipGrid https://info.flipgrid.com/
FLIPGRID is a simple (easy to use and ad FREE) video platform where you can post a question or problem and invite students to record their response
the platform is FREE and requires NO DOWNLOAD
can be done via the website or mobile app
your club/group "grid" is PRIVATE and can only be viewed by members with the code
it's fun, visual and allows for people to get to know one another without always being in a "live" meeting
FlipGrid offers students...

an opportunity to engage in a way they have become accustomed to (video)
allows them to verbally express themselves from the privacy of their home while still engaging with classmates either by viewing other responses or commenting on classmates' ideas in their own post
How you can use it TODAY...
1. SIGN UP with FLIPGRID with your SUNY Orange email address account... https://admin.flipgrid.com/signup (its FREE)
2. CREATE at "GRID" for your group (choose a cool theme)
3. POST a topic, question or ice-breaker (you choose how long the responses should be)
4. SEND the FLIPGRID code to your group, inviting them to post their video response
codes can be send via gmail accounts to students or posted to Blackboard with other content/information about the topic
Resources...
ELECTIONS
Do you need to elect club officers? You can host virtual elections using ZOOM.
The polling feature on Zoom is a good tool to use in conducting elections. A video on using the polling feature can be found here- https://support.zoom.us/hc/en-us/articles/213756303-Polling-for-meetings. The chat feature can also be used for members to send their vote directly to the person responsible for counting the ballots (in a secret ballot vote) such as the club advisor.
Elections Tips:
Check your organization's constitution to ensure you are following the proper election procedures.
Consider having candidates give live speeches via Zoom or have them pre-record speeches for club members to watch prior to voting.
Encourage candidates to create a written platform for club members to review before they vote.
Share election results with your membership in a meeting, via email, and/or through social media.
VIRTUAL EVENTS
Hosting virtual events is a great way to keep everyone engaged and connected.
Tips for hosting virtual events:
Define the purpose of the event. Having a clear objective for your event will help you determine the best content to prepare.
Create a planning committee. Even though you are not physically together, your club can still create a committee to plan event logistics. It's often helpful to have a team to bounce ideas off of and distribute work effectively.
Find your target audience. Is this event open to the entire campus community? Is it geared towards members of your club only? Deciding on your target audience will help you determine whether this event should be open or closed.
Pro tip: You can create passwords for Zoom events to limit attendance to a smaller audience.
Pick a style for your event. Do you want everyone to log on at a certain date and time? This is called an "active" or "live" event. Do you want it to be available for anyone at any time? This is called a "passive" or "on-demand" event.
Active/Live Events - Pick a date and time for the event. Work with your target audience to find the best time for your event. People may be in different time zones, so finding a time that works well for as many people as possible is important (and including a time zone in event invites is recommended!).
Passive/On-Demand Events - Pick a launch date.
Market your event. Let your target audience know about your event by advertising. Some places where you can advertise your event include:
The Center for Student Involvement Social Media Account (@sunyorangecsi on Instagram and Twitter)
Send a request to post on the college website and/or social media (contact Chris Thurtle – chris.thurtle@sunyorange.edu)
Your organization's social media pages
Find ways to engage your audience. There are many ways to engage the audience throughout your event.
Plan activities such as playing games or having small group discussions throughout your event. Platforms like Zoom include breakout rooms for small group discussion and engagement.
Use the poll features, reactions, and chat features on Zoom to encourage interaction.
Have audience members submit questions before or during an event.
Ensure all logistics are prepared before the event.
Create an outline to keep the event on track.
Check in with presenters before the event to ensure they're not having tech challenges.
Practice using any technology or apps prior to the event.
Make the content accessible. Like in-person events, virtual events should be as accessible and inclusive as possible.
Use closed captioning for your event utilizing apps such as Zoom closed captioning or Google live transcribe.
Use clear language, large fonts, and high color contrast for all marketing and presentations.
Reframe your expectations. A virtual event will likely look different than an in-person event would look and that's okay! Give yourself permission to think creatively and to do things differently.
Policies still apply. Check in with the Center for Student Involvement in the following situations:
You are going to contract a performer/speaker.
You are advertising an event that may be higher risk (i.e. a cooking competition, a workout class, DIY project with hazardous materials, etc.)
Ideas for virtual events:
Educational Events
Watch a TedTalk, video, or documentary and facilitate a group dialogue around the content.
Select an interesting article for members of your club to read before the meeting and have a discussion around relevant content.
Participate in a webinar. Many professional organizations are developing online content which can be purchased or viewed free of charge. Check to see if your national organization, or an organization in your field, is offering any online content. Consider facilitating a dialogue to discuss any relevant topics after the webinar.
Invite a guest speaker to your meeting to present on an interesting topic.
Career Planning & Networking
Invite an alumni or leader in a field of interest to speak to your organization and answer questions.
Host a Q&A panel with leaders from the field. Your org can create a panel of individuals from multiple organizations or areas of interest to hear multiple perspectives.
Plan a workshop for your organization. Ideas include a resume workshop, cover letter writing workshop, etc. The Center for Student Involvement can help you find a presenter.
Community Building
Consider hosting a fun event to get to know the members of your club better and build community. Some ideas include:
Participate in a Board of Activities Virtual Event (www.sunyorange/csi/boa)
Host a trivia night using Kahoot or another online platform
Play online games together
Do a creative project and have members share pictures of completed projects
Learn a new skill or recipe
Do a group yoga or workout class
Go on a virtual museum tour
Watch a show or read a book and then meet up to discuss.
Netflix Party allows Netflix users to watch at the exact same time!
These are just a few options - there are endless activities you could choose for a virtual event! We encourage you to brainstorm ideas with your executive boards and general membership. If you come up with a great idea, please share the idea with our office so we can highlight your organization!
END OF YEAR CELEBRATIONS, RECOGNITIONS, AND AWARDS
Celebrating your team's accomplishments at the end of the year/semester is a great way to boost morale and create a sense of closure for graduating seniors. There are many creative ways to celebrate virtually, consider some of the ideas listed below:
Host a virtual banquet or awards ceremony
Consider hosting a banquet/ceremony via Zoom or live-streaming the event on social media
Tips:
Give the audience a way to participate in the ceremony - either by giving them a role in the ceremony or encouraging members to use the comments section or chat features to cheer each other on throughout the event.
Encourage the winners to participate. Think about notifying winners before the live event, so they can accept the award during the ceremony. Or keep the element of surprise and encourage all nominees to be prepared to make a speech!
Create virtual awards or mail out certificates you would have distributed in person.
Use fun backgrounds that fit the mood of your event! You can post a slideshow showing award winners or highlights from the year. Or pick a theme and incorporate that in your background. A tutorial for creating unique Zoom backgrounds is available here.
Get creative to highlight accomplishments from the year
Highlight team members and give shout-outs for their accomplishments via social media
Create a highlights video using TikTok
CSI VIRTUAL OFFICE HOURS
Do you have questions about leading your club remotely? Would you like additional support? Or do you have a great idea that you want to share with our team? Set up a meeting to check in with our staff! We are available from 8:30am-4:30pm, Monday through Friday. To set up a meeting, please email studentinvolvement@sunyorange.edu. Also, don't forget to make use of our other online resources including the Club Resource Manual which can be found at https://sunyorange.edu/csi/publications.html.
We look forward to hearing from you!
All of our student clubs and organizations offer activities designed for fun and camaraderie, and are great ways to meet other students who share common interests.
Getting involved on campus is also a great way to develop leadership skills and is an excellent resume builder. Nearly every academic major has its own associated club or organization. Look beyond your academic program for opportunities to learn something new.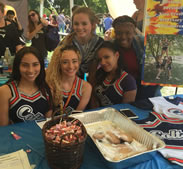 All student clubs and organizations are funded through the Student Senate. The Senate currently recognizes and supports 30 student clubs and organizations on the Middletown campus and supports 10 clubs on the Newburgh Campus.

If you are interested in getting involved with Senate or would like to find information on how to start or reactivate a club please contact the C.S.I. for more information.
Pictured to the right are members from the Cheerleading Club at Student Life Day.
---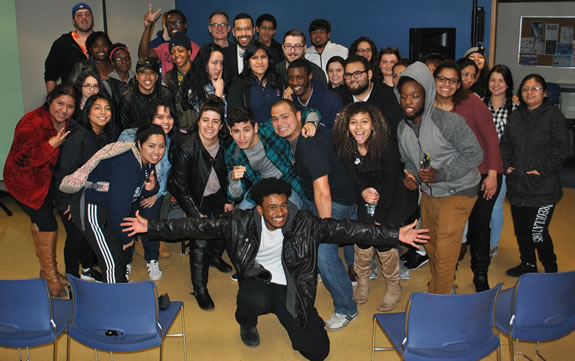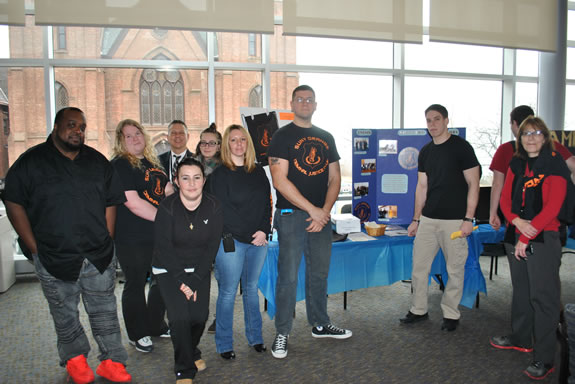 [ to top ]