Student Club Information
Currently Recognized Clubs
For club meeting times and information, click here club meetings.
Club
Advisor
Email

All 4 Jesus Campus Fellowship

Matthew Whitson
matthew.whitson@sunyorange.edu
Apprentice Players
David Cohen
david.cohen@sunyorange.edu
Architectural Club
Charles Passarotti
charles.passarotti@sunyorange.edu
Biology Club
Walter Jahn
walter.jahn@sunyorange.edu
BRIDGES Club
Tarah Miller

tarahmiller@sunyorange.edu

BOA (Board of Activities)
Karen Reid.
karen.reid@sunyorange.edu
Business Club

Daryl Goldberg

&

Jonathan Goldberg

Computer Science Club
Cartmell Warrington
Criminal Justice Club

Timothy Zeszutek

&

Joanne Penzato

timothy.zeszutek@sunyorange.edu

&

joanne.penzato@sunyorange.edu

C.O.T.A.

Mildred Consolo Melchionne

&

Donna Frazier

mildredconsolomelchionne@sunyorange.edu

donna.frazier@sunyorange.edu

Engineering Club
John Wolbeck
johnwolbeck@sunyorange.edu
E-Sports Club
Dana Salkowsky
danasalkowsky@sunyorange.edu
Falun Dafa Meditation Club

Lisa Zylberberg

lisazylberberg@sunyorange.edu

Future Teachers Association

&

Jennifer Mirecki

elizabeth.tarvin@sunyorange.edu

jennifermirecki@sunyorange.edu

International Club
Jamie Cupolo
jamiecupolo@sunyorange.edu

Jewish Club

Magic the Gathering Club

Donald Green

Thomas Giorgianni

donaldgreen @sunyorange.edu

thomas.giorgianni@sunyorange.edu

Math Club

David Peterson

&

Brandee Williams

brandee.williams@sunyorange.edu

Med Lab Tech Society
Nadia Rajsz
nadia.rajsz@sunyorange.edu
Nursing Club



Pamela Hylton

Pamela.hylton@sunyorange.edu
Open Mic Club
Walter Jahn
walterjahn@sunyorange.edu
PTA Club
Maria Harjes & Edward Leonard

edward.leonard@sunyorange.edu

Rad Tech Club
Michele Ascione & Nicole Rushing

michele.ascione@sunyorange.edu

nicole.rushing@sunyorange.edu

SADHA

Meg Atwood

&

Niccole Card

niccole.card@sunyorange.edu

SAGA (Sexuality and Gender Alliance)

Andrea Laurencell Sheridan

&

Rebeca Rivera-Robayo

andrea.laurencell@sunyorange.edu

rebecariverarobayo@sunyorange.edu

Secret Order of SUNY Orange (Dungeons and Dragons Club)

Sara Wilbur-Mesic

&

Stacey Orzell

staceyorzell@sunyorange.edu

Stitch Society Club
Sabrina Jennings
sabrinajennings@sunyorange.edu
Student Senate
Adrienne Victor
adriennevictor@sunyorange.edu
Student Veterans of America

Nancy Boylan

nancy.boylan@sunyorange.edu

SEGA (Student Engagement Gaming Association)

Charnikia Pinesett

charnikiapinesset@sunyorange.edu

Wrestling Club
Edward Leonard
edward.leonard@sunyorange.edu
Currently Recognized Clubs - Newburgh Campus
For club meeting times and information, click here club meetings
Club
Advisor
Email
Student Senate
Adrienne Victor
adriennevictor@sunyorange.edu
Newburgh
Board of Activities
Adrienne Victor
karen.reid@sunyorange.edu

Newburgh Nursing Club

Kathleen Thaler

kathleen.thaler@sunyorange.edu
Newburgh Clubs and Organizations: Be sure to check with the Center for Student Involvement Office to reserve your meeting time and place. If your club does not appear here, please contact Adrienne Victor via email at adrienne.victor@sunyorange.edu to be added to the chart.
---
Club Meetings and Events
---
Club Resources
All of our student clubs and organizations offer activities designed for fun and camaraderie, and are great ways to meet other students who share common interests.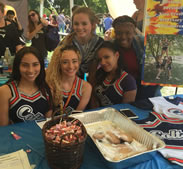 Getting involved on campus is also a great way to develop leadership skills and is an excellent resume builder. Nearly every academic major has its own associated club or organization. Look beyond your academic program for opportunities to learn something new.
All student clubs and organizations are funded through the Student Senate. The Senate currently recognizes and supports all student clubs and organizations on the Middletown and Newburgh Campus.
Pictured to the right are members from the Cheerleading Club at Student Life Day.
---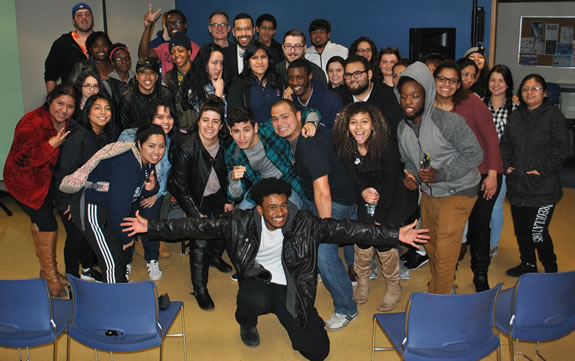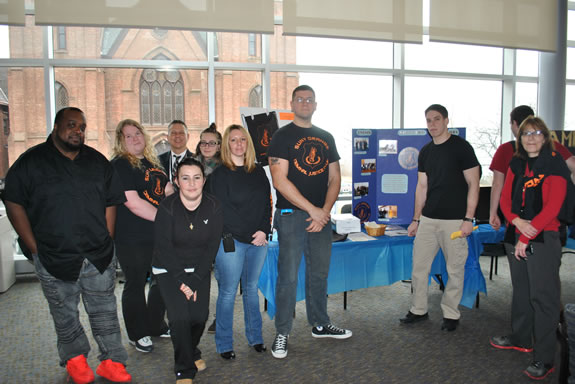 [ to top ]