CSS Online
The Center for Student Success offers real-time and "asynchronous" online tutoring for wide range of subjects. What does that mean? For instance, you can chat, call or video conference with a tutor, or you can submit a question about your studies and come back later get your feedback. We work to provide as many support options as possible to meet you where you are and keep you on track to success!
Quick Guide of Your Options
I need help right now!

If you're a SUNY Orange student looking for immediate and time-flexible help, NetTutor offers tutoring in a wide range of subject all days, evenings, and weekends (24/7 for Math)—including holidays!

→ I have a question I want to ask.
→ I have a homework assignment I'm stuck on.
→ My schedule changes week to week.

I need guidance for the semester!

⇒ Get started with Center for Student Success Online.

If you're a SUNY Orange student looking for ongoing and consistent support, Center for Student Success offers holistic support in a wide range of subjects during posted semester hours.

→ I have a lot of questions & not sure where to start.
→ I want to stay on track with my classes.
→ I want a weekly commitment with a tutor.

Keep reading about all CSS Online has to offer.

*Keep your learning visual with these free online whiteboards.

As a SUNY Orange student, take advantage of ALL of all your options!
If you're new to the Center for Student Success, working with CSS Online is easy to navigate. And no matter how hectic your schedule is, there are so many ways you can get the support you're looking for.
Work with our staff of tutors online during our posted semester hours! Simply fill out our Application for Scheduled Tutoring with all of your information. When you're filling out your application, just select "online" when we ask you if you'd like to meet in person or online.

After you submit your application, we'll be in touch to your SUNY Orange email either to ask you for more information or with your session confirmation and instructions about how to connect with your tutor via TutorTrac. TutorTrac is an online scheduling system that connects you to your tutor to get right down to work.
You can use any of the these ways to connect with CSS Online:
There are a few easy steps to view your session info. Read our handy handout on how to use TutorTrac and make the most out of your session:
NetTutor
NetTutor is an online service available for SUNY Orange students at no extra charge. This is a great option if you aren't able to work with any tutors (online or in-person) during our posted semester hours. NetTutor tutors are available evenings and weekends, with math tutoring available 24/7. All in all, NetTutor is a great tool that's available to you no matter your hectic calendar.
Subjects available on NetTutor:
Accounting
Anthopology
Astronomy
Biology
Business
Chemistry
Communication
Computer Science
Economics


English and Reading
French
Geology
Health
History
Italian
Math (in English)
Math (en Español)
Microbiology



Nursing
Philosophy
Physics & Physical Sciences
Political Science
Psychology
Sociology
Spanish
Student Success
Writing and Paper Center
Ready to start working with NetTutor?
NetTutor is easy to access by first going to My.SUNYOrange.edu: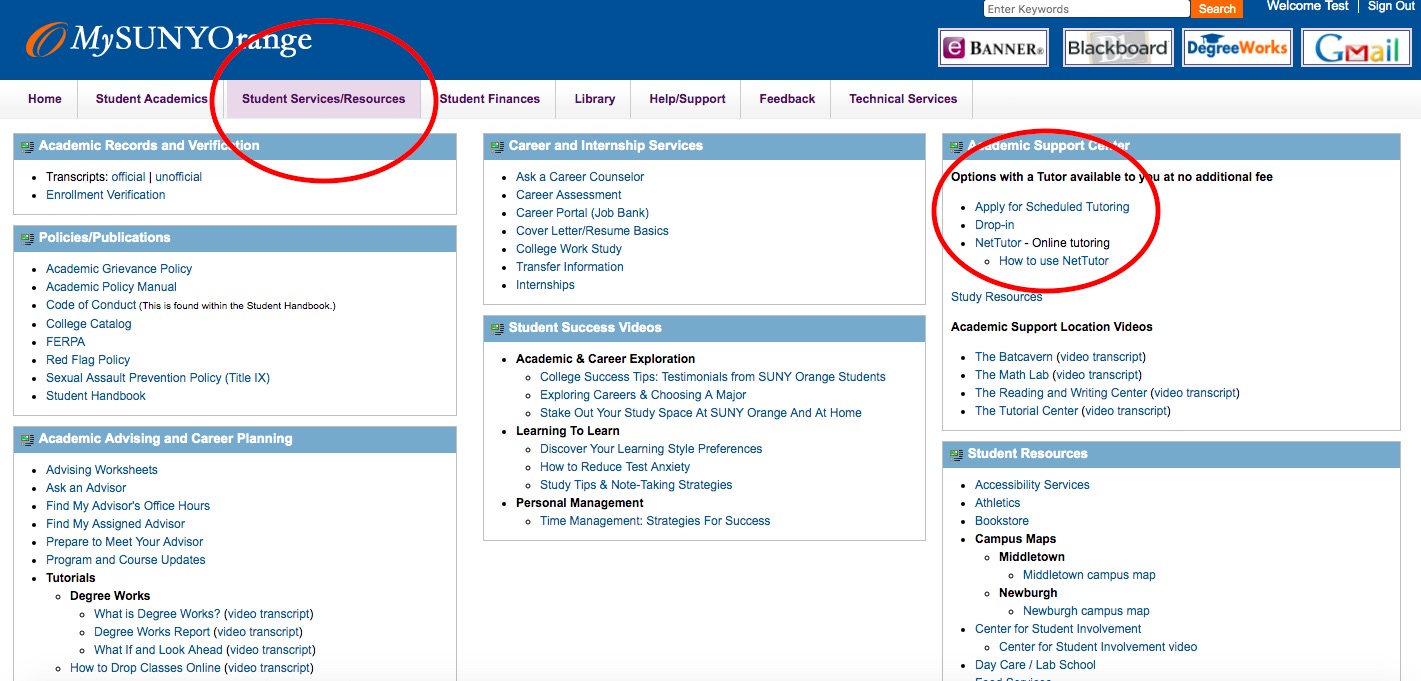 Click on "Student Services/Resources."
Click on "NetTutor." (Pro-tip: it's right under our Application for Scheduled Tutoring!)
Next, select your subject.
Depending on the subject you select, you have a few options for how to work with a tutor including one-on-one sessions, drop off a question, or submit a paper for feedback. Keep reading below on the different ways you can work with NetTutor...
What do I do next?
Click on your question to get some answers:
Online Whiteboards
Keep your online learning visual by using any of these free whiteboards:
Questions?
Never hesitate to contact us at any time!
Are you ready to write your story?