Program Mission and Goals
Program Mission:
The Radiologic Technology Program seeks to provide each student educational activities to develop the necessary professional, communication, clinical and critical thinking skills for the purpose of graduating entry-level radiographers who demonstrate professionalism in the clinical setting.
Radiologic Technology Program Goals
Students will:
Demonstrate critical thinking skills.
Demonstrate clinical competence in relation to their knowledge and technical skills.
Exhibit professional behavior.
Demonstrate effective written and oral communication skills.
Professional development of the student is enriched through didactic; laboratory and clinical patient care experiences by providing:
A Socratic learning environment for the exchange of professional ideas.
Ongoing and individual student feedback.
Opportunities for self-directed learning.
Laboratory learning activities.
Clinical applications of radiographic procedures.
Student Learning Outcomes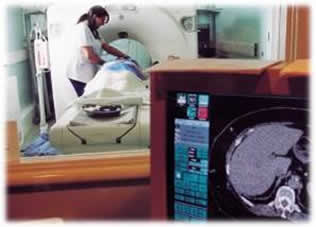 Students will:
Perform routine radiography exams.
Perform non-routine radiology procedures.
Evaluate radiographs for diagnostic quality.
Demonstrate knowledge through Clinical Test Exams.
Practice patient safety and radiation protection.
Demonstrate professional behavior.
Demonstrate effective oral language skills.
Demonstrate effective writing skills.
Additional Success Measurements
A student who successfully completes the Radiologic Technology Program can demonstrate knowledge, proficiency, and dexterity in the following:
evaluation of requisition
physical facilities readiness
patient care and management
equipment manipulation
accessory selection and use
technical factor selection
positioning skills
centering and alignment
radiation protection
radiographic evaluation
contrast media preparation
Philosophy
The foremost concern of the Department of Diagnostic Imaging is the ability of the Radiographer to provide high quality patient care. Without this, the Radiographer, the patient, the community, and the entire profession suffer. If the Radiographer does not posses the attributes of providing high quality compassionate patient care, then the medical and technical knowledge obtained will have all gone for naught.
Methodology
All didactic courses will be correlated with the clinical experience to assist students in understanding the principles of Radiography. Clinical experience will allow you to apply those principles as they relate to medical, preventive, diagnostic, and therapeutic medicine. Emphasis will be placed on developing that ability of application to a variety of patient care requirements. Teaching and service will be directed toward developing the competency of students in the art and science of radiography, the ability to promote a concept of the health care team, with an appreciation of each member of the team.
Radiologic Technology Program Handbook
If you need a more accessible version of the document linked to below, please e-mail luannhaviland@sunyorange.edu
The Radiologic Technology Program Handbook can be accessed at Student Handbook
Are you ready to write your story?