Nursing Department
Do you enjoy intellectual challenge?
Do you seek the challenge of working with people?
Do you want to make a difference in the lives of others?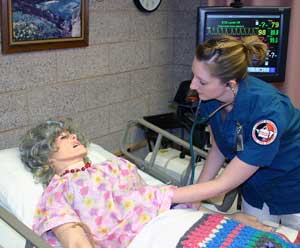 If your answer to these questions is yes, nursing may be the career for you! Nursing is a career that is intellectually challenging and requires the ability to problem solve when caring for others.
From those who desire to work within acute care settings and hospitals to those wishing to care for children or the elderly in the community, nursing can provide professional satisfaction.
With the increased need for nurses and the wide variety of careers from which to choose, you are sure to find your special area of interest. Nursing is a profession that provides for flexibility in work schedules and allows for professional development and personal growth
The nursing program at Orange County Community College is accredited by the Accreditation Commission for Education in Nursing, is available on both the Middletown and Newburgh Campuses, and enjoys a national reputation for excellence as well as over a 60-year year tradition of caring. In 1952, Orange County Community College became a leader in the exciting evolution of nursing. The College was chosen to open the first associate degree program in nursing education in the United States.
Today, experienced and credentialed faculty provide a supportive learning experience with a commitment to individual student advisement and small classes. Our innovative program features the latest in simulation technology. The use of simulation manikins provides SUNY Orange students with the scientific knowledge and resources needed for the critical examination of health and illness in the current healthcare system.
As a SUNY Orange Nursing student, you will:
Be part of the first, and oldest, community college nursing degree program in the country
Learn nursing techniques using the state-of-the-art simulation technology in laboratories on both the Middletown and Newburgh campuses
Study in a program that is well-respected by the community and has demonstrated a strong commitment to caring
Learn from a highly qualified faculty that brings diverse experiences and areas of expertise to the classroom
Develop competencies that will prepare you for an entry-level position as a registered nurse
Understand accepted standards of nursing practice so you may provide safe and appropriate care to patients
---
"
I chose SUNY Orange because of its stellar nursing program and the wonderful people that work here. The College really nurtures its students for what's ahead (in their professional future) and is passionate about achieving the highest results. I could not have asked for a better place to be than right here. "
-- Paul Falanga
---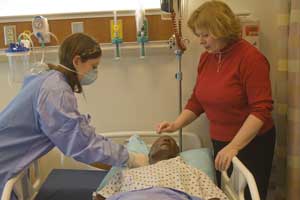 The nursing program provides for the development of those competencies expected of registered nurses in general nursing practice at the technical level.
Men and women are prepared for entry level positions in nursing with an emphasis on direct patient care. Graduates are eligible to take the National Council Licensure Examination (NCLEX) for Registered Professional Nurses (RN).
Study in the humanities, biological, and social sciences and the experience of academic life encourage students to become life-long learners. Many of our graduates pursue advanced degrees in nursing at upper division schools.
Becoming a nurse in today's world is a serious challenge, but the rewards are great. As registered nurses, our graduates are privileged to share in the joy of birth, assist patients in coping with disease and suffering, and help in humanizing the inevitable process of death.
We invite you to take the challenge! Apply to our Nursing Program today!