Peer Advising Program
Mission and Goal
The mission of the Peer Advising program is to promote academic excellence and provide an opportunity for personal growth and leadership to Peer Advisors themselves. Peer Advisors work in close cooperation with staff of the Academic Advising Office to provide a high level of service to SUNY Orange students by helping them connect to and utilize campus resources. The goals of the Peer Advising program are: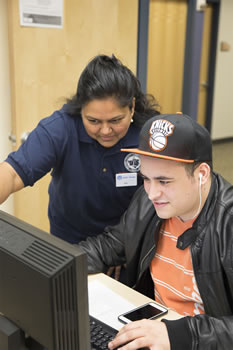 For Students:
To provide students with a supportive environment
To connect students to campus resources
To inform students of the services and resources available at SUNY Orange
To facilitate student autonomy
To encourage involvement in College organizations and activities
For Peer Advisors:
To develop leadership skills as well as communication, presentation, and customer service skills
Expectations of a Peer Advisor
Be proactive
Possess quality listening/ communication/ presentation skills
Enjoy helping others and able to handle multiple tasks
Be understanding and open-minded
Enjoy learning
Be responsible
Be a team player: collaborate with your fellow peers on any task
Maintain open communication with staff and team members
Peer Advisor Job Description
Support the New STudent Advising & Registration Tutorial (New START) program: review student eligibility, ensure students complete their requirements, conduct phone call reminders, etc.
Assist students with login and navigating their accounts (MySUNYOrange, G-mail, Degree Works).
Assist students who have seen their Advisor create their course schedules and register online.
Provide timely and accurate information and/or referrals to appropriate College offices/ resources
Be familiar with important registration deadlines.
Assist with office duties including, but not limited to, data entry, replenishing forms, managing confidential academic records, and providing general clerical support as needed.
Maintain complete confidentiality regarding all professional interactions with students and student records
Adhere to all office policies and procedures.
Attend and participate in training sessions.
Other duties as assigned.
Application Requirements
Enrolled in the current semester and planning to register the following semester
Have a Cumulative GPA of 2.75 or higher
Bilingual abilities in Spanish are a plus
Submit a job application questionnaire
Submit documents to the Academic Advising Office at Advising@sunyorange.edu.
Selection
Evaluation of qualifications based on the above criteria
Interview with staff in the First Year Support Team
Time Commitment/ Payment
A time commitment of 5 to 20 weekly hours is required to join the program (we will work around students' schedule while the semester is in session). Need full availability during summer and winter break.
Peer Advisors are paid $14.20 per hour