Vincent Odock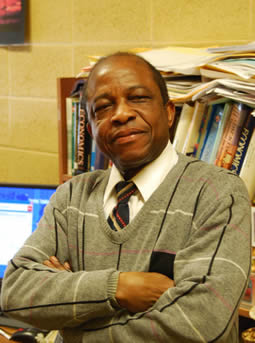 Dr. Odock, a co-author of a college textbook in Microeconomics, is a tenured professor at SUNY Orange. BA (Economics),University of Manitoba, Canada, MA (Economics), MBA (Finance), State University of New York, Binghamton, PD (Instructional Leadership) from St. John's University, New York and a DBA (Doctor of Business Administration).
He has published a number of articles, the most recent titled: Is a Debt Crises/Federal Government Bankruptcy Imminent in the USA? He was instrumental in initiating and organizing the 1st Economic Summit in Orange County, New York, where he presented an Economic package to the county.
He has previously taught at Ahmadu Bello University in West Africa, and as an adjunct professor at Marist College, Poughkeepsie, New York and Mount St. Mary's College, Newburgh, New York. He utilized the latest economic models to explore the impact of the Masada Project on Orange County's economy, expected to create between 350 and 400 permanent jobs and infuse over $60 million each year into Orange County, providing between 1.24 and 1.37 billion dollars in the county's economy within 20 years.
He also examined the Economic Impact of the College on Orange County's Economy and its environment. Other interests include ping pong and bowling.
Hudson Hall 114F
845-341-4371
vincent.odock@sunyorange.edu