Global Initiative: Asia
The rhythmic cadence of Japanese Taiko drummers thundered across SUNY Orange's Middletown campus on Tuesday, April 20, hailing the introduction of the College's "Global Initiative: Asia," a yearlong celebration and investigation into the culture, history, art, music and politics of China, East Asia, India and Southeast Asia that will take place during the 2010-11 academic year.
The upcoming focus on Asia marks the College's third "Global Initiative" program, following projects that investigated Latin America (2007-08 academic year) and Sustainability (2009 calendar year). Global Initiative, coordinated through SUNY Orange's Global Studies Department, is a College-wide interdisciplinary focus on a topic of global importance. Each Global Initiative seeks to expand students' horizons, bring academic departments together in collaboration and infuse a global perspective on the College's curriculum. It is also intended to incorporate the community-at-large into the topical discussions and events.
The project involves students, faculty, staff, and community members through the use of discussions, lectures, workshops, cultural events and other special events. For Global Initiative: Asia, the College will concentrate on China and East Asia during the Fall 2010 semester before setting its sights on India and Southeast Asia during the Spring 2011 semester.
In addition to the Taiko drummers, the recent "Asian culture" kickoff event featured authentic Asian food and a martial arts exhibition on the Alumni Green of the College's Middletown Campus. Students and staff members flocked to the sun-splashed Alumni Green to enjoy the festivities. In celebration of the upcoming focus on Asia, the walkway surrounding the Alumni Green is adorned with the flags of numerous Asian nations. The colorful array of flags will fly until the conclusion of the Global Initiative next May.
"Today's event was designed to generate some excitement for Global Initiative: Asia, and I think we accomplished that goal" said Paul Basinski, chair of the College's Global Studies Department and chair of the Global Initiative organizing committee. "Over the course of the academic year, we hope to build connections with our region's growing Asian community so we may infuse this material more deeply into our curriculum, and to enhance our understanding and awareness of the rise of Asian civilization and its importance to the world."
For more information on "Global Initiative: Asia," contact SUNY Orange at (845) 341-4983 or visit www.sunyorange.edu/gi.
Photos
Yumi Tanaka addresses a Global Initiative audience on the Atomic Bombing of Japan in 1945.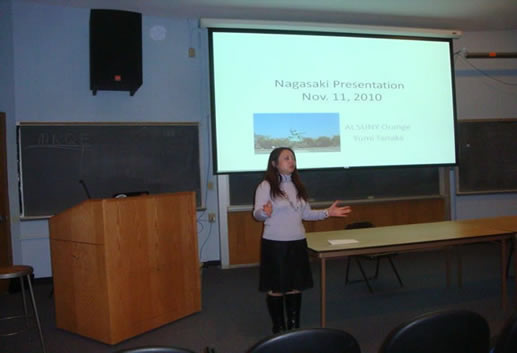 Japanese Taiko drummers returned to SUNY Orange and performed in the Great Room at the new Newburgh Kaplan Hall to an audience of over 100, on April 29. Thanks to all who attended!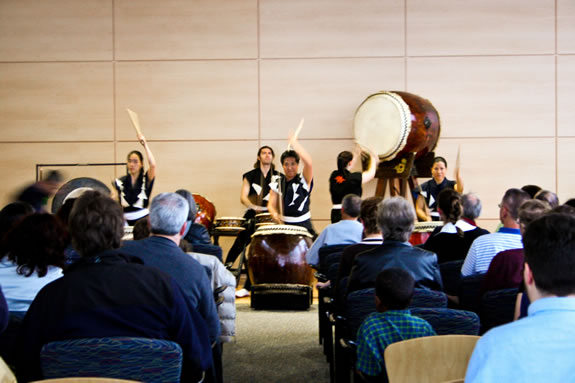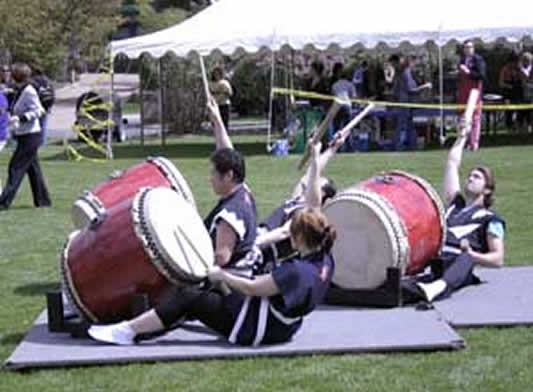 The kickoff event for this year's Global Initiative was held on April 20, 2010 on the College Green at the Middletown Campus. Photos below of Japanese drummers and the Martial Arts demonstration.