Biology Club Events
Club Information:
The biology club at Orange County Community College is one of the most active clubs on campus. Each semester the club organizes campus-wide trips that, in the past, have included whale-watching and visits to the Museum of Natural History, the Bronx Zoo, and the Camden Aquarium. Interspersed among these major events are outings the club plans to local areas for activities such as hiking, camping, and eagle-watching.
To find out more about our scheduled club events or trips, see our bulletin board located in the Rowley Center for Science and Engineering Biology office suites, RSCE 105. Please visit our Earth Week Events page and get Involved!
The Biology Club warmly welcomes any students to join; one does not have to be a biology major to participate.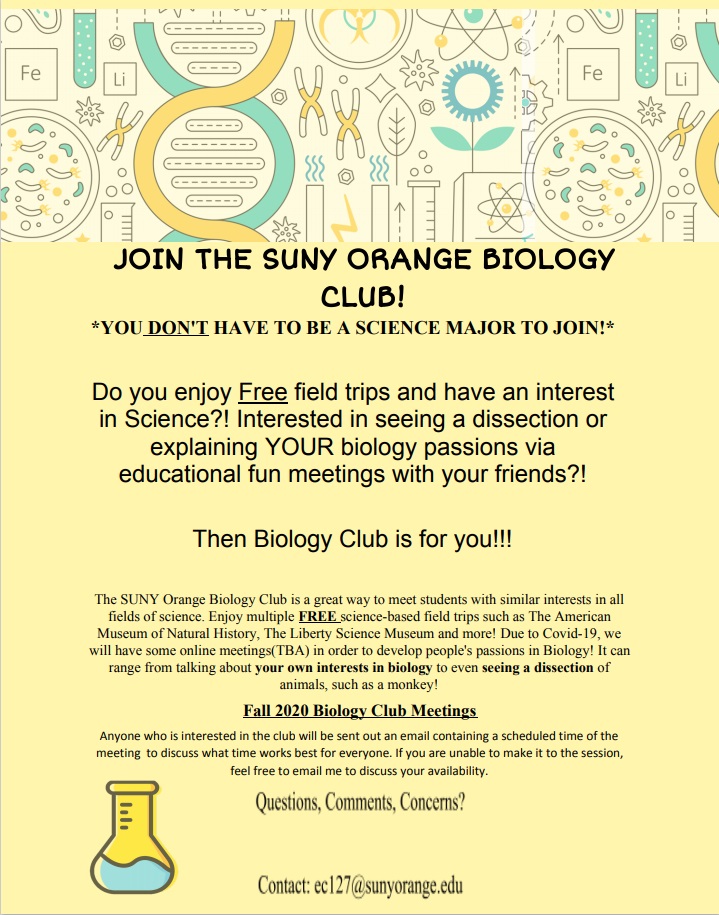 Due to Covid-19 meeting times are TBA. Please send us an email and find out what the Biology Club is all about!
Contact:
Sustainability Committee
The Biology Club and the Sustainability Committee would like to invite all students to get involved. SUNY Orange is Going Green! In order to do this, we the students must take action to help make our school become part of the global initiative to save our planet. If you think the weather conditions and gas prices are terrible now, imagine how all things will be in the future. Let's not wait and see who was right about global warming and face the facts. We should be responsible for the actions we can take now to reduce the chances of catastrophic impacts later
Contact:
Participating Clubs:
Biology Club
Business Club
Rad-Tech Club
Science & Engineering
Sugar, The Mastodon
The Sugar Loaf mastodon (Mastodon americanus) greets all students as they enter the Bio-Tech building's main entrance.
This mastodon skeleton was found in 1972 near the Warwick-Chester border and was donated to the people of Orange County by the New York State Archaeological Association.
The skeleton belonged to that of a 20 foot long male that possessed an unusual tusk in the lower jaw and stood almost 9 feet tall at the pelvis. The mastodon has been radiocarbon dated at 7910 B.C. (plus or minus 225 years).
The club has launched a long-term endeavor to restore Sugar, a mounted skeleton of a mastodon currently displayed in the Biotechnology Building, which is beginning to show signs of deterioration. Club members have already completed an initial cleaning of the skeleton and are involved in raising funds to cover the expected costs of restoring the skeleton.